Hello darlngs, 
Little miss is very young to stay in her own room yet but that hasn't stopped us from decorating it long before she came into our lives. When it comes to decorating kids bedrooms, you want to make sure you've thought of everything. You need clever storage ideas, space for them to play as well as a comfy bed for them to get some rest at night. How do you manage to design a room that does it all? With some clever tricks and tips, you can make sure your children have a bedroom that will grow with them.
For starters, you'll want to ensure they have a good bed. This is essential for them getting a good night's sleep. It also means you'll have to buy something that they can use for a few years. This can be easily done if you know what to look for. Lots of beds offer storage, and you could get a small divan with drawers so you can store toys away at night. Children can use these beds as they get older,  which means they'll definitely get the full wear out if it.
You'll want to make sure they have a room that will last them for a few years at least. It can be tempting to buy cute nursery furniture, but the reality is they don't stay in this stage for long. Invest in some good full-sized furniture that will last them until they get older. That way it saves on redecorating and finding new furniture every couple of years.
Using every available bit of space is vital when it comes to kids bedrooms, especially as they start getting older. Consider putting up some shelves if they are short on storage areas, or find items that multitask. You can also make full use of storage under the bed with some cheap plastic or wooden under-bed drawers, which you can get from most DIY stores.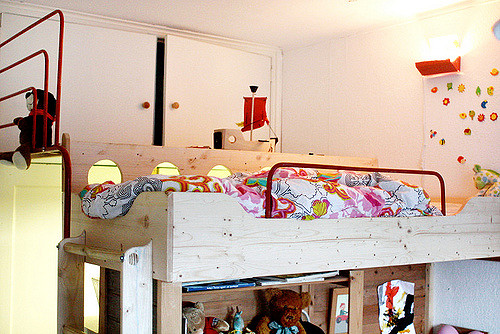 Another great idea is using bunk beds. If your children need to share a room, it creates a lot more space by effectively stacking the beds. It can also provide amazing storage solutions for smaller bedrooms as some units come with built in wardrobes or even desks. You can check out a range of bunk beds at Cuckooland for some ideas on how to create a magical space your child will love.
When considering color, it can be a good idea to ask your child first. They will love having some input on the design of their room, and you can help them get the space they want. Children's rooms don't have to be about themes as they can quickly become dated as your child's interests change. By adding simple artwork and photos, the room is personalized for them. You could also add bright patterned rugs and curtains to keep the room fun. There are some excellent online guides to creating some cool effects with paint so that you can use them for some ideas. Perhaps you want to create a cloud effect, or just get to grips with the basics.
Of course, if you want to create a themed room for your child, then there is plenty of inspiration out there. The possibilities are endless and dependent on their likes. You could make them a pirate ship, build a tree house or even a hot air balloon. There are some great examples on the web of dream rooms for children. It'll make you want a more fun bedroom for yourself!
If you want an excellent way to decorate rooms without reaching for the paintbrush every time, then look at getting some wall stickers. They add a personal touch to the room without being a permanent fixture. You could even paint one wall with chalkboard paint and let your children express themselves by writing and drawing on the wall.  Remember how much you wanted to do this as a kid? It is easily wiped clean so they can be as messy as they like.
If your children have to share a room, then consider giving them separate areas just for them. Let them choose what they have in their space, and let them be as creative as they want. It's important they feel as though they have somewhere they can be individual when sharing with a sibling.
You can also try to minimize any future problems by encouraging your children to use frames for posters. Let's face it; nothing looks worse than posters blue tacked to the wall, and the paint work won't thank you for it either. By getting kids to use frames, they get used to seeing things displayed and hung nicely on the wall. Hopefully, it will prevent them from getting into bad habits. Your walls will thank you for this.
A lovely idea for bigger rooms is to create a book nook. It can be a brilliant place for kids to relax and enjoy reading. Make sure that the books can be stored away neatly, and think about putting some soft seating close to the floor. This ensures they have somewhere to get comfy and read their favourite books. It's a good idea to keep any toys away from this area to prevent your youngster getting distracted during reading time.
If your kids love to make dens, then you could think about creating a permanent camp for them in their room. This could be a portable kids tent or a teepee you created yourself. It can be a great way for kids to escape and either enjoy some quiet time or get creative and let their imaginations run wild. Just don't be surprised if the family pet ends up in there as well as they can also become fond of these quiet spots!
When adding the finishing touches to their room, remember to pay attention to the lighting. You could add some funky wall lights, or find some statement ceiling lights. You can also get some cute bedside lamps that add personality to the room, like these from Ikea. Let your children have some input on the final design and help them create the magical room they've always wanted. Then hopefully you won't have to worry about redecorating their room until they are much older.
Lot's of love