Hello darlings,
Although what you wear when traveling really isn't likely your biggest concern - especially when you consider peak traveling times, busy airports, long lines, and the potential of missing a flight, fashion ranks pretty low.
However, it's also understandable that you don't want to look as though you just rolled right out of bed when you show up at the airport, but equally you want to be comfortable - this is especially a good idea when you're traveling on a long flight.
If you're planning to travel over the Christmas holidays, here are just a few simple tips you can use for your journey to ensure that you're not only comfortable, but can remain stylish, too.
Light clothing:
If you're going on a longer journey, you should try to avoid dresses and skirts because they're just too awkward when you're trying to get into a comfortable position, which is difficult enough already when traveling, and it's not necessary to look like you're on your way to a Christmas party. Things like jumpsuits, which can be found in a variety of styles are definitely my preference when flying. They're light, allow for a lot of movement, are usually good at keeping me cool, and they just look good, too.
Hair Ties:
Although not technically clothing, these will come in useful for those of you with long hair. Keeping your hair out of your face when traveling on long journeys is always a good idea. However you need to be stylish too! After all you never know who's going to be sitting next to you, right? So try to use a beautiful hair bow to do the trick! You can tie your hair back during your flight if you want to try and sleep a bit, and then let it down later once you're ready to land.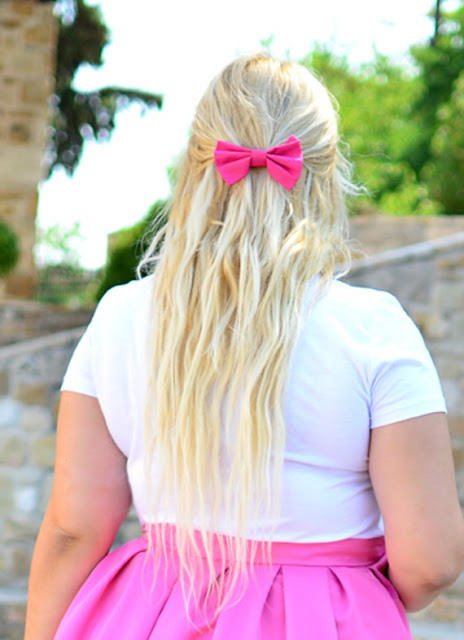 Comfortable shoes:
There's a big misconception around comfortable footwear - especially sneakers, that they have to be boring or overly sporty, but that's just not the case. In recent years, many designers have opted to target a wider audience with shoes that are, both comfortable and stylish. You can certainly carry a pair of heels with you in your hand luggage, but trust me: you don't want to be rushing to a gate and trying to run in those, so it's best to keep to something flat and that allows you to move quickly without the risk of falling over.
Pyjamas & Socks:
Anytime I fly long haul, I always bring either a pair of pyjamas and bed socks or a pair of loose jogging trousers to wear during the flight. It's so much more comfortable to try and sleep during the flight by doing this, plus I don't feel quite as gross as I do when landing because I have the feeling of having changed my clothes.
There are so many ways you can make your journey this Christmas more comfortable, so you really just have to find what works for you. Just remember that when taking long flights you should get up and move around the cabin frequently to keep your circulation going, and also drink plenty of water to stay hydrated. Regardless of what delightful destination you're traveling to over the holiday season, I hope these tips will help to make it more comfortable and enjoyable.

Lot's of love