Hello darlings
The great thing about reviewing books is that they can be a lot like the box of chocolates Forrest's mom used to talk about. Remember that line from the movie? "Life is like a box of chocolates, you never know what you are going to get". It's like that with books! You never know what's inside those pages, or monitors since we are talking about eBooks. 
I was pleasantly surprised by the new Rebekah Dodson book called *Poppy Bloom: Life after us.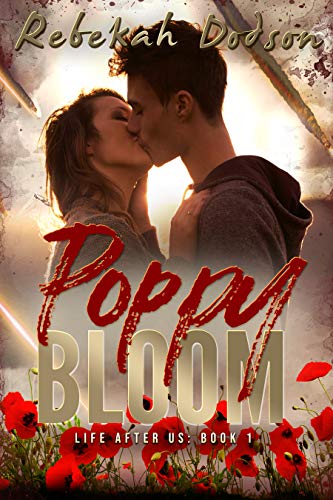 What's the book about
Vicki Morel believes she and Will, her gorgeous fiancé, have it all. They're living the American dream. That is, until Portland, Oregon is leveled by a terrorist grade light weapon, and she loses Will at the airport.
Ambrose Palamo is an aviation student who wants one thing: to go home to Samoa. But when Portland is leveled, and he meets Vicki, he promises to help her find her fiancé instead. What he doesn't expect is the feelings that start to form for her as they search the dangerous Oregon woodlands.
Sometimes love isn't what you think it is. 
The poppies bloom reminds them of what they've lost, while giving them the courage to face a brand new future.
What I think of the book
I must admit I was really skeptical at first when I was asked to review a dystopian romance. I had to Google the word dystopian before I agreed to take on this project. I am glad I did!
I was captivated by the story of utter distraction, laser guns and suspense! 
At first I was a bit put off by how Vicki was thought to be just a "weak woman" who needed saving and protection. I was cheering for her when she started to show how resilient she really is and how she can definitely hold her own in a stressful, dangerous and unprecedented situation. You know by now I love strong women characters in and out of books!
I also admired how Ambrose responded to the racism towards him and how he persevered in light of saving his life and those of others. 
What I didn't really like was being left with a huge, out of this life proportions cliffhanger at the end of the book. I mean come on! Now it's all I can do to not eat my nails as I wait for the next book to come out to learn what happens next! 
All in all this is a very easy to like book!
Author's bio
Rebekah Dodson is a prolific word weaver of romance, fantasy, and science fiction novels. Her works include the series Postcards from Paris, The Surrogate, The Curse of Lanval series, several stand alone novels, and her upcoming YA novel, Clock City. She has been writing her whole life, with her first published work of historical fiction with 4H Clubs of America at the age of 12, and poetry at the age of 16 with the National Poetry Society. With an extensive academic background including education, history, psychology and English, she currently works as a college professor by day and a writer by night.
When was the last time you've read something that surprised you? Did you like it?