Hello darlings! 
Every new parent knows that his social life has a high affinity with his kid's age. 
When they are newborns, you don't have any social (or other for that matter) life at all. 
When they get to 15 days they may let you hold them in your arms while you walk around the block pretending to be fascinated by your neighbor's houses.


When they are between 1-12 months old and sleep in their stroller most of the day, your social life emerges again. You can go outside, socialize (in well ventilated and clean places), go out to lunch and dinner with your husband, see your (healthy and educated on how far away from the baby they should keep their hands and bodily fluids) friends, that sort of thing. 
When they become toddlers, your social life begins to revolve around the playground. You become friends with other parents and grandparents and you miss the time you could sit down and eat. 
However, there are many things you can do with a toddler and have lots of fun! Here are some of our favorite things to do in Athens with our toddler, Natalia. 
We practice attachment parenting and we believe that Natalia's needs should come first but we don't have to overlook our needs too. So we do things all of us like. 
Take the metro to Syntagma square 
Natalia loves the train and sings a train song all the time! It takes us 15 minutes tops to reach Syntagma square from where we live and these 15 minutes are play time too. We sing, we do silly faces and of course we tickle her.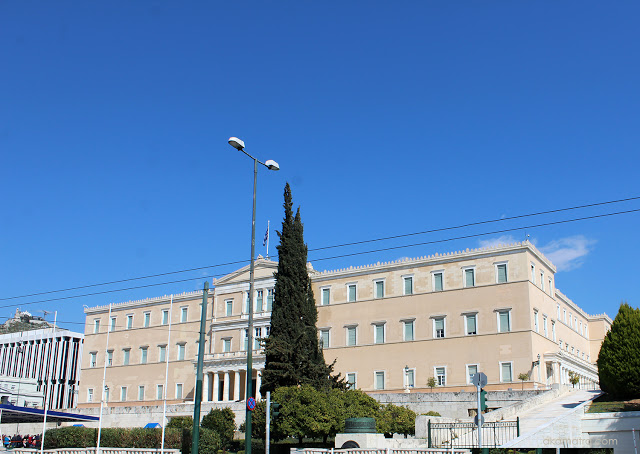 YOU CAN DO IT TOO: Regardless of where in the world you live, if there is a metro or underground system in your town, take your kid for a ride! Show your kid the fun side of public transportation so that they become good travelers too. Make it into a game to avoid crying. 
Natalia sometimes cries when we leave the metro but we then tell her when we are heading and she smiles! 
Because next we are going to: 
Play with the sand in the National's garden playground (if it's not raining/cold) 
When you surface the metro, head on south towards the National Garden. A well loved green spot for the Athenians, you can have plenty of fun there. There is a small pond with ducks, a small zoo with lots of goats and bunnies and another small pond with turtles. While you teach your kid fun facts about these animals, hundredths of green parrots will fly above your heads.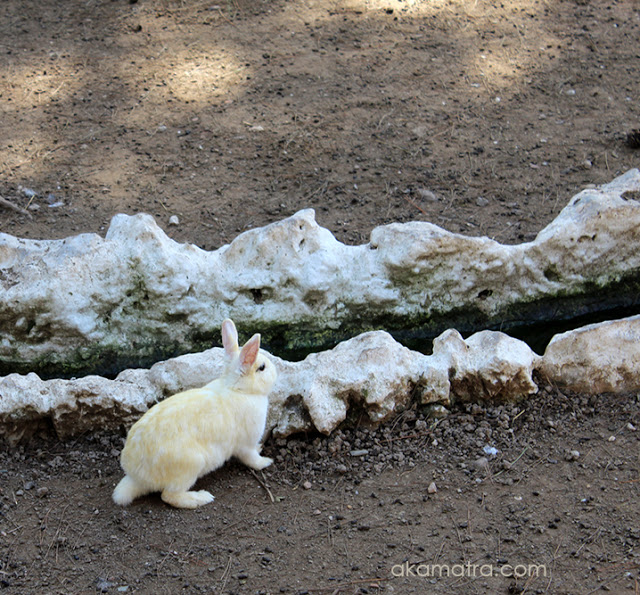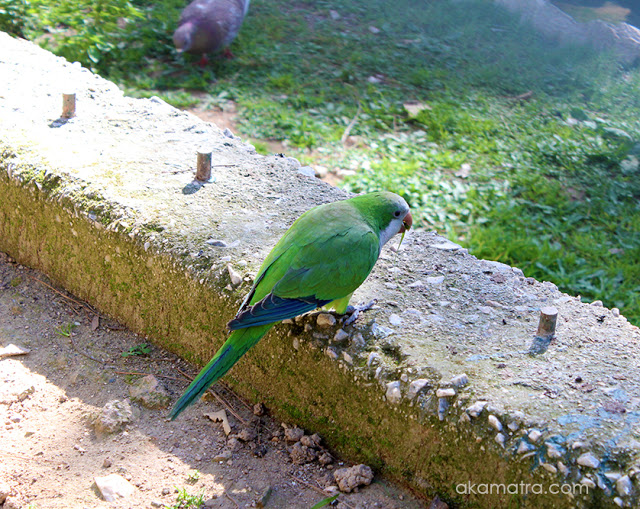 Then, follow the signs to the playground and enter the kids' happy zone! With a lot of different equipment this has something for every age. Swings and merry go rounds and a few teeter-totters will keep your kid plenty busy. Natalia loves the variety of the animal springers too.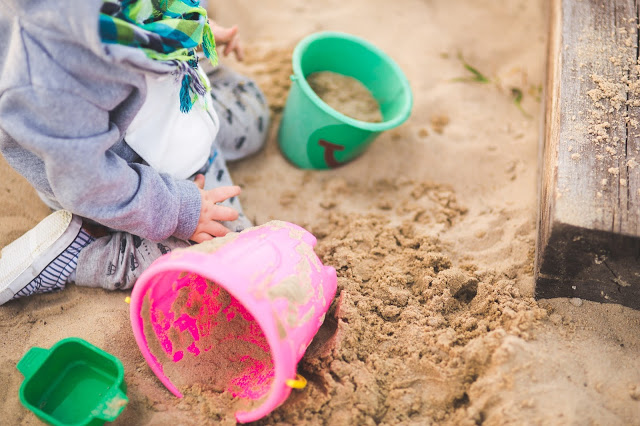 By far her most loved pass time is to sit in the sandbox with her small bucket and shovel and play for hours on end! We take the opportunity to become kids with her too. I used to love to play with the sand as a kid. 
YOU CAN DO IT TOO: Find a nice playground near you and take you kid there. Make sure to let them play with the sand and the soil, the rocks and the leaves. They need to be in comfortable clothes you don't mind getting dirt on. 
Or go the Hellenic Children Museum (if it's raining or very cold) 
Get out on the Evangelismos metro station and make a left on Rigillis street. You will find the building on the number 17-19 of Rigillis and Vasileos Georgiou street. 
The museum features many educational programs for the kids and their parents too. We've been to some and they were very well organized. Natalia, loves to go there and play with other kids and learn too.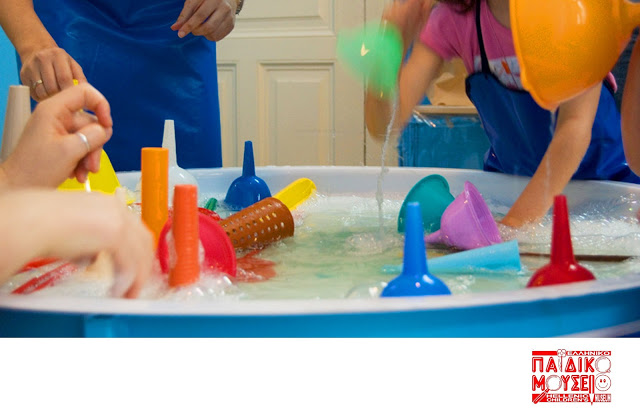 Even if you don't make an appointment for a specific program you can take your toddler in the special baby room filled with toys and soft furnishings. They will have a blast for sure! 
For more information visit the museums website here. They also accept donations for completing their move into the new building, more info can be found here (scroll down for English).
YOU CAN DO IT TOO: Find your town's children museum and take a look at the programs they implement. Find out if your prefecture or a school in the area has anything similar. 
After a couple of hours in either the playground or the museum we head on out. By then she (and probably your kid too) is tired and after giving her fruit and an egg she takes a nap in her stroller. 
And that's our chance to: 
Have lunch at a nice restaurant 
So we get out of the garden (or take the metro back to Syntagma square after the museum) and head west down Xenofontos street. Take a left to Nikis street and head on to number 23 to Makalo. This is where you can have some pretty amazing food while your kid naps.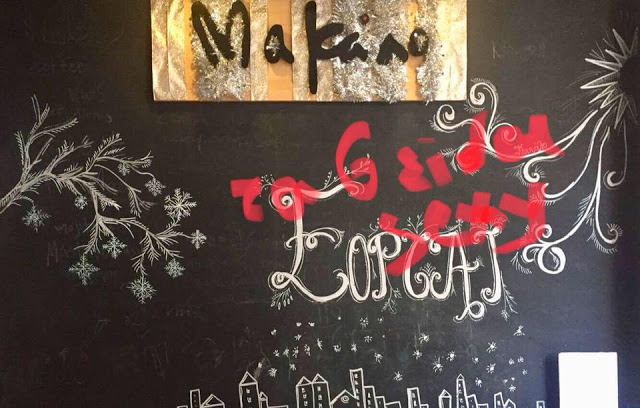 And when she wakes, fret not! The place is kids and pets friendly. Lou, the cooks dog, is very well trained and will keep your kid entertained (for a minute or two, they are toddlers after all!). 
Regardless, you can take turns eating or you can feed your kid his lunch too while you eat yours. 
Enjoy freshly cut salads with haloumi cheese, perfectly cooked salmon with greens and one the best tasting schnitzels you'll ever come across. 
Do not miss the opportunity to try the soup and the pie of the day! They are mouthwatering! 
The guys working there have a great knowledge of wines too, so you will be able to accompany your meal with a perfect beverage! 
YOU CAN DO IT TOO: Do some research on your local restaurants. I bet you'll find some that are kid-friendly. And I am willing to bet you don't have a smoking issue where you live! 
One of the best parts of the day comes next, because it's time to: 
Indulge in a delicious ice cream 
Turn right on Nikis street and then do a left on Mitropoleos street. You'll soon find Le Greche gelato alta qualita under number 16. You will probably recognize it from the loads of people standing in line out of shop, looking to go in for a scoop (or three) of one of the most delicious ice creams in Athens. 

Don't go in there looking for cheap ice cream, you will not find any! Instead you'll find ice cream made from natural and organic materials, gluten-free ice cream choices and gluten-free cones. They even have a black cone made with activated charcoal available- though I don't know why you would want to eat such a thing if you haven't been poisoned! 
Be warned: The ice cream is delicious and it's worth the price and the time you'll spend in line. However, if you are sensitive in turns of service maybe this isn't the place for you; the employees look overworked, tired and rarely smile. 
YOU CAN DO IT TOO: Find a place that sells ice cream or the treat of your choice and doesn't use powdered chemicals in it. If you are going to indulge you might as well do it as healthy as possible, right? 
Take your cone and continue west down Mitropoleos street. After all this food and desert it's time to burn off the calories with: 
A long walk to Thiseio 
You are now in the center of the historic old Athens and heading towards Monastiraki square. Don't forget to pay your tribute to Eridanos river, looking down to see if it has any water streaming through. Kids love that kind of stuff!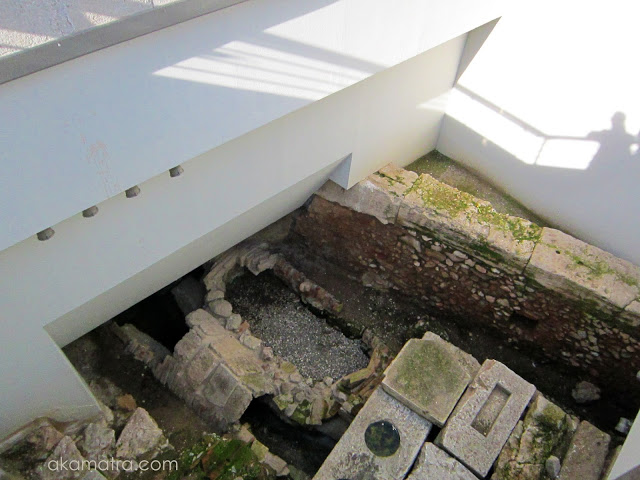 Now you have so many choices to see and do. You can turn left and head towards Plaka and the Temple of the Winds, one of our favorite places. Take the opportunity to teach your kids about the different types of winds and try to locate them on the temple's outside.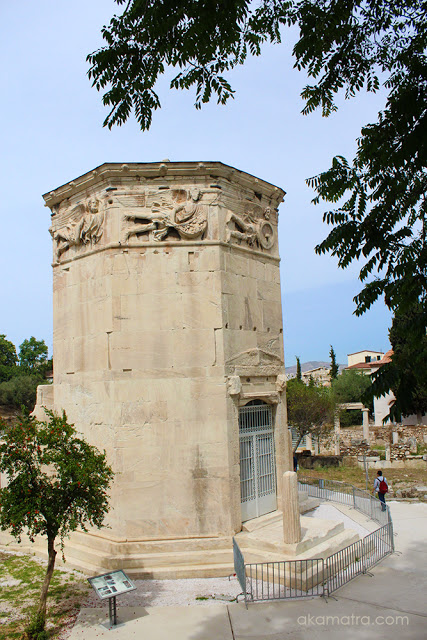 TIP: there are numerous informative signs along the way to help you!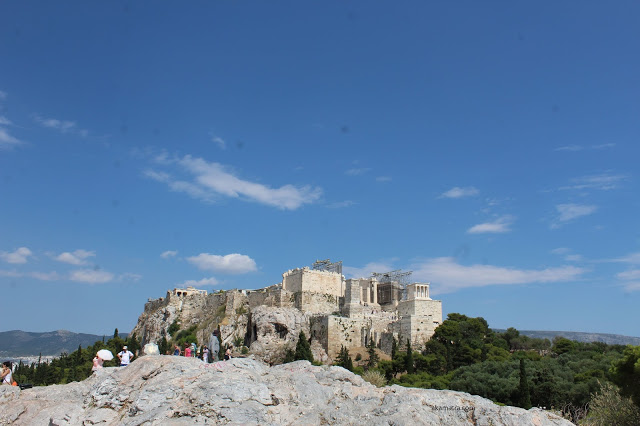 Or, you can head towards Thiseio, through the winding streets filled with second hand bookstores and antiquaries. Don't forget to take lots of photos the view of the Acropolis is great from there.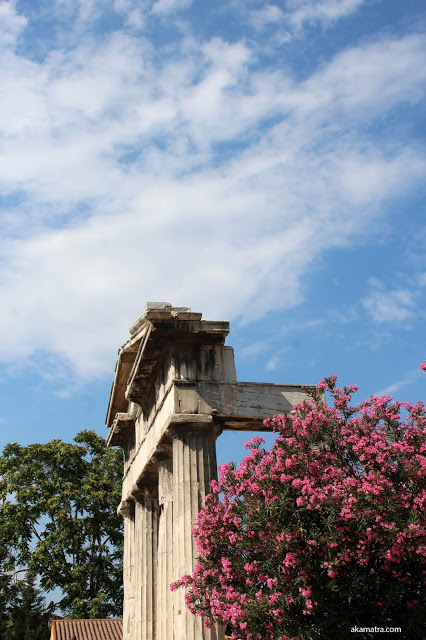 Once you reach Thiseio you can either go left towards Acropolis museum and walk a very nice pedestrian street that leads to another nice playground, or right towards the Gazi area with another nice pedestrian street. The kids can easily walk both ways but do mind the crowds and the occasional motorbike.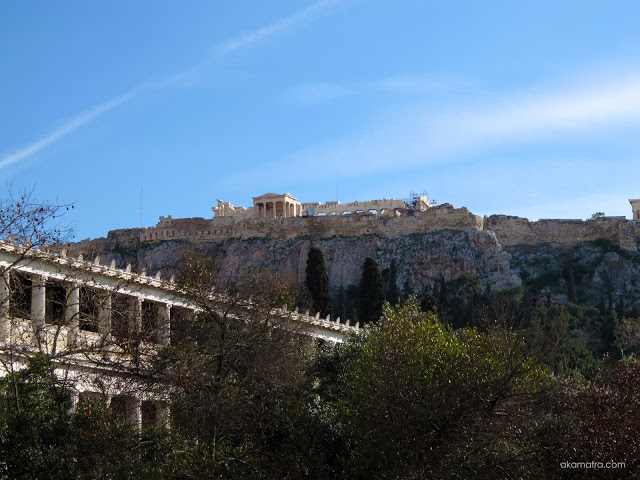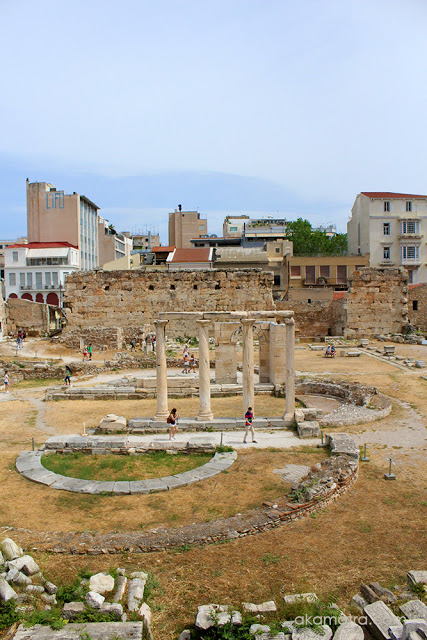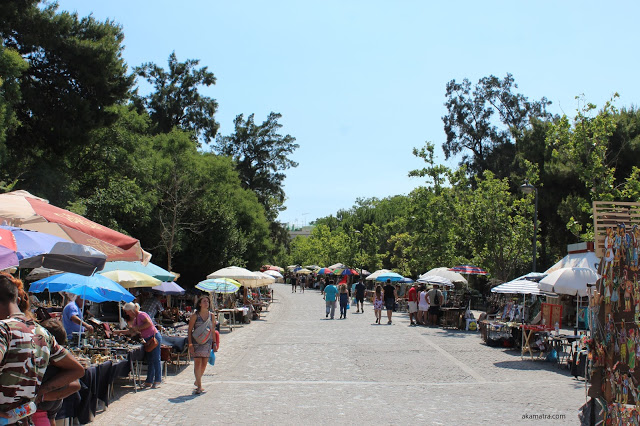 YOU CAN DO IT TOO: Scout out some kid friendly pedestrian streets in your town and play tourist. Your kids don't know anything (yet) about their surroundings, why not be a guide for them and show them around? 
After trotting around the streets of Athens, it's finally time for: 
An afternoon beer in the Lazy bulldog pub 
You may find this surprising, bringing a toddler in a pub that is, but trust me it's not! In Athens almost everyone disregards the no-smoking inside law so there aren't many places to take your kid that are smoke free. The Lazy Bulldog pub is one of the few law abiding and client respecting places (as is Makalo mentioned above) a person can have a drink in Athens!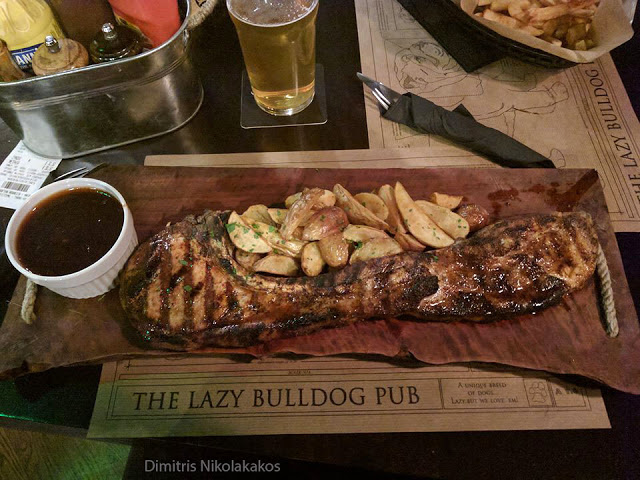 More than that, this is an authentic pub with a great variety of draft beers and a very helpful and warm staff. And don't get me started on the food! It is D-E-L-I-C-I-O-U-S!!! I swear I've gained a couple of pounds since we've started going there. The club sandwiches are made with fresh bread and are huge, I love the cheeseburger and they do a mean stake! On special occasions they change the menu with special treats you don't want to miss! 
The place is kids friendly with kid high chairs and a couple of couches too. It's not a rare sight seeing kids playing on the floor especially if you're there early in the afternoon. It's also not rare to see dogs in the pub too, extra points for being pet-friendly guys! 
Natalia has made friends with everyone in the pub and she loves to play around there (we never let her alone and we are careful so that she's not ruining anyone's time). 
YOU CAN DO IT TOO: Ask your friends with kids where are the best pubs to eat around there. They have to be kid-friendly too though so make sure to stress this part. Good news travel fast and parents need their fun too, so if you find the place spread the word! 

READ:  The best places to go with kids as written by 25 top family travel bloggers.


After that it's time to go home so we hop on the metro again. All in all a very full day which Natalia has grown very fond of! 
So you see, if you are here on vacation or if you are staying in Athens for a few months and want to spend some quality time with your kids, there are many options. And this is just a few of them, more to follow! Next I am thinking of taking my little family to Hydra one of Eastern Europe's hidden gems!
What's your favourite thing to do in your city with your kid? 
Lots of love