Hello darlings! 
I am back with a new recipe for a new obsession of mine: 
Sugar free, cinnamon cookies! 
I took a break from blogging for a week and I really missed it. But I needed the time to regroup and think to be honest. If you follow me on instagram you know I begun dieting (yet again) and if you are one of my older readers you may remember the confession of a chubby girl (LINK). 
I started Noom cause I need to loose 15kg to be able to feel like my old self. I am now 1.5kg lighter two and a half weeks into the program. So far so good. I am not really hungry so that's good. I miss ice cream and chocolate though so I decided to have one day to indulge per week, probably Saturday! 
The philosophy of this system is to treat yourself occasionally in order to stick to a healthier living and eating for the long run. However, I want to give up sugar or at least not eat so much of it. Nick's diet is sugar free for the last 3 years or so and we don't give our daughter any sugar apart from honey (occasionally). That's why I loved making these cookies so much! They are made with all organic ingredients, a little bit of honey and zea flour. 
They are very crunchy and are the perfect treat for your afternoon tea! They still have a lot of calories (hello, flour and olive oil) but at least I know they are made with excellent materials. After all, I don't eat them to get full (I promise), it's just a healthy treat! 
Ingredients 
510g organic Zea (Triticum dicoccum) flour 
220g organic olive oil 
3 tbsp honey 
Juice from one orange (organic) 
1.5 tsp cinnamon 
1.5 tsp baking soda 
A pinch of salt (optional)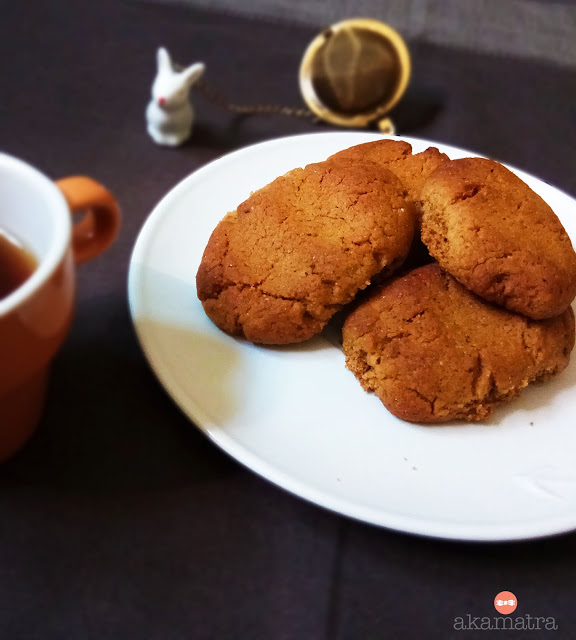 Procedure 
Combine the flour with the cinnamon, the baking soda and the salt. If you have the time shift them, if not it's ok, they will be good either way. 
Combine the orange juice with the olive oil and add the honey. I use a hand held blending rod but you can use a mixer as well. 
Then slowly add the liquid ingredients to the flour mixture and form dough. It should be oily (well duh) and not sticky on your hands.


Form the cookies in the shape you want and bake in a preheated oven at 180oC for 15-16min. 
Let them cool and enjoy! 
As I want to dig a little deeper on the nutritional facts of my recipes I tried to do a nutrition analysis for these cookies. 
This is what came up 

 So they aren't really bad boys are they? Just eat one or two with your tea and your coach will be happy!

Lots of love