Hello darlings
I decided to make Nick's birthday cake this year instead of buying one from the store. He is partial to ice cream cake so I decided to go with that option.
No I am not insane. And no I am not a food or pastry guru. I don't even own an ice cream machine. I am just creative, lol!
If you want to know how I did it just read on! I promise you it's easier than you think!
I feel like I should warn you about my photos this time. I was really nervous about how this cake was going to become a reality that I didn't take much care as to what the photos were going to look. So the lighting is off and in some cases the focus is too! Sorry about that but as you'll find out if you decide to make this cake, ice cream will not wait for you to adjust your lense ;)

1 ½ pack of biscuits of you liking. I used petit beurre
60-80gr of unsalted butter
Caramel syrup
1 large can of Nirvana pralines and cream
1 lt of vanilla parfait ice cream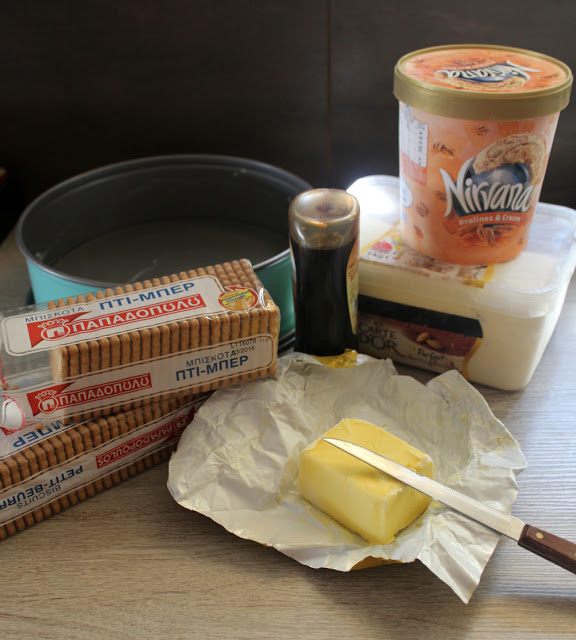 Put your biscuits in  a large container. It needs to be a large one to avoid making a mess in your kitchen while you break them!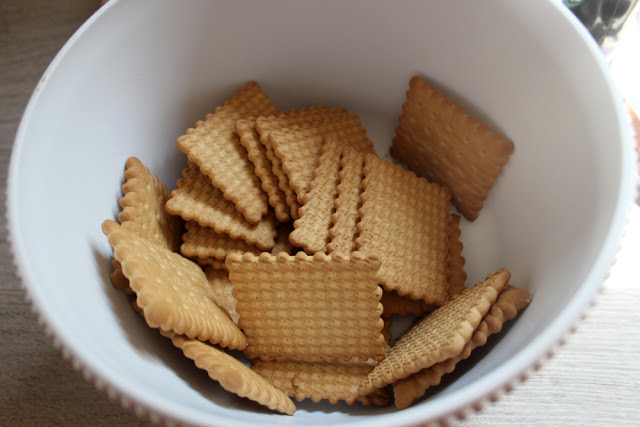 Now take your beetle (and/or your frustration that summer holidays are over, lol) and crash them into large crums.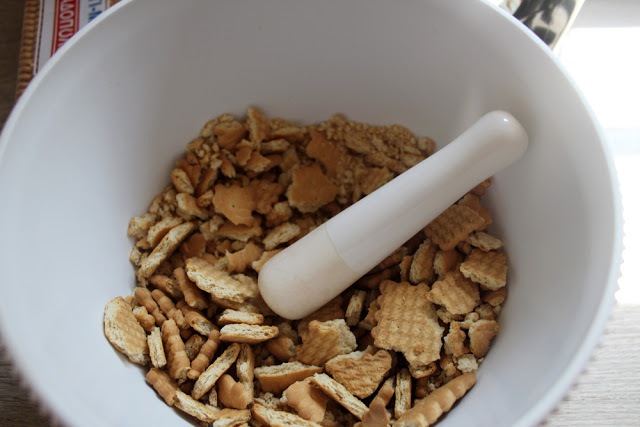 Then use a food processor to grid them into a finer grain.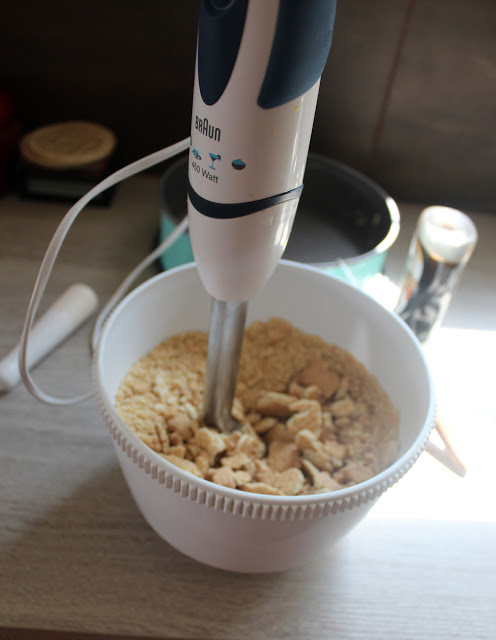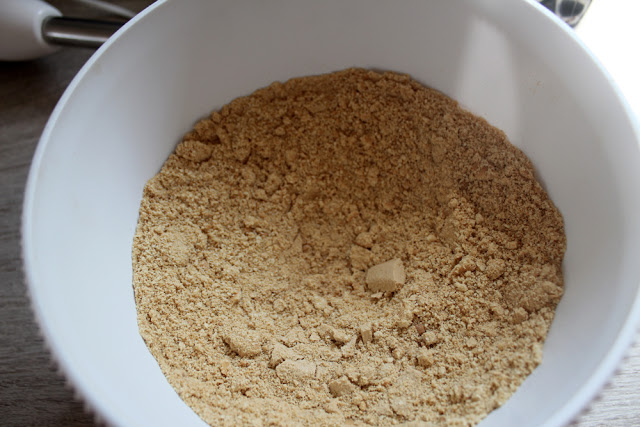 In the meantime melt the butter in a pan.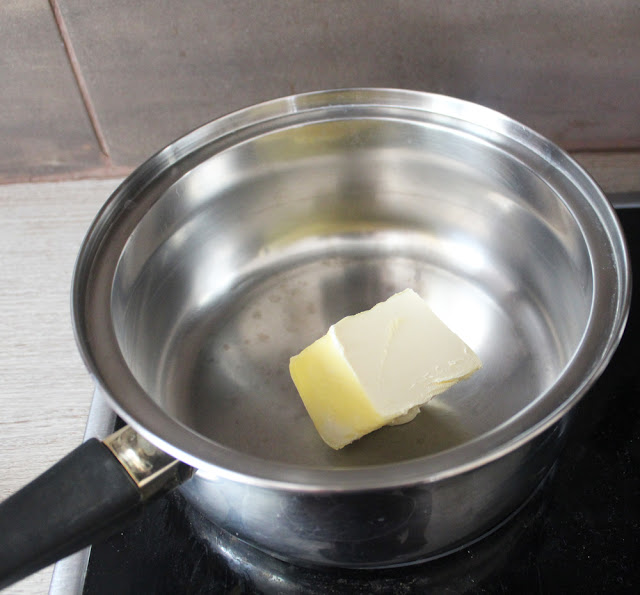 Take the melted butter and pour it over the crushed biscuits.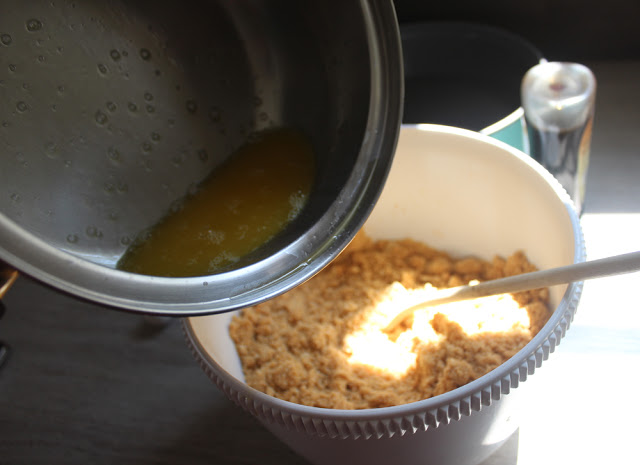 Stir the mixture and then place half of it in your cake pan which you have previously lavered with butter.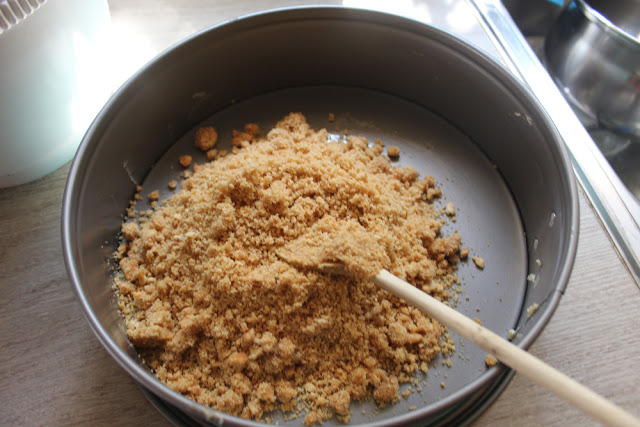 Using your spatula press the mixture down to form an even layer of biscuit.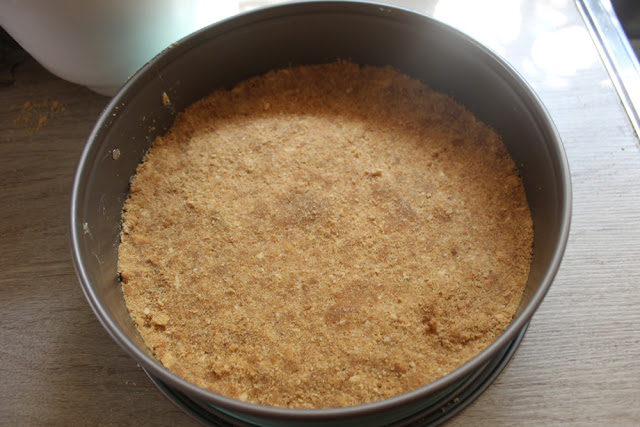 *Side note: My guests said they liked the cake but thought the biscuit base was a bit hard to dig in. This is solved if you bake the biscuit mixture for 15 minutes in a medium temperature. Just make sure that you let it cool down before you put the ice cream on top!


Place the vanilla parfait ice cream at room temperature for a couple of minutes. I didn't have to do that since the temperature was at 35oC but you need it soft but not melted! 

IMPORTANT: From this step on you need to have everything within your reach and ready to go! You have to be quick and efficient if you don't want your ice cream melting all over the place!
Use a large wooden spoon to scoop the ice cream on the biscuit layer.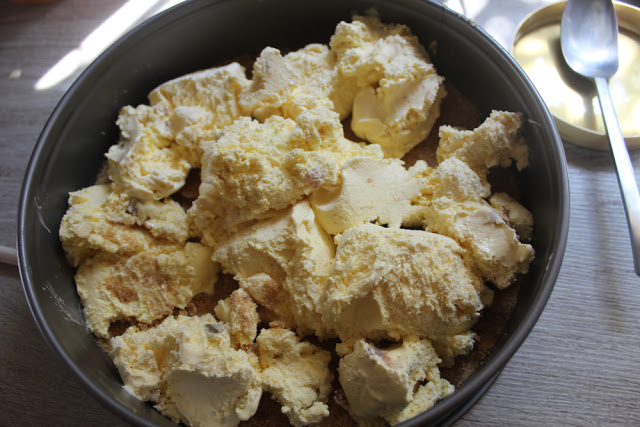 Press it gently to form another layer of the cake.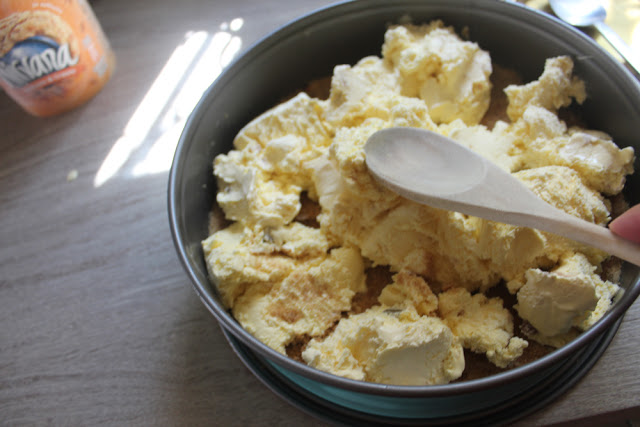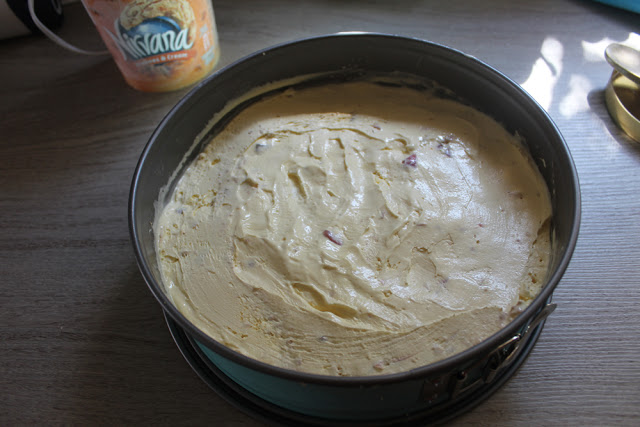 Place the other half of the biscuit mixture on top of the ice cream layer and press gently again.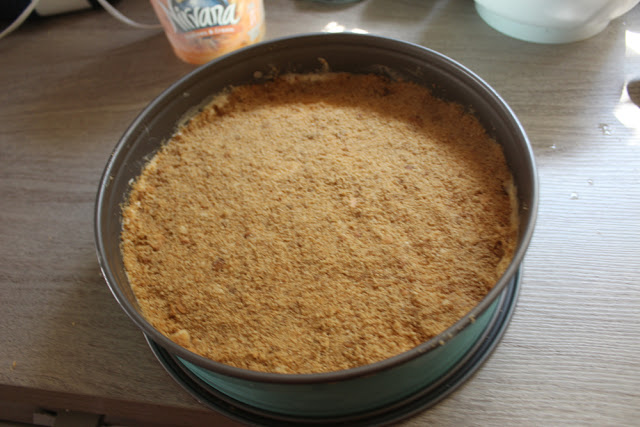 I sprinkled the top of the biscuits with some of the syrup.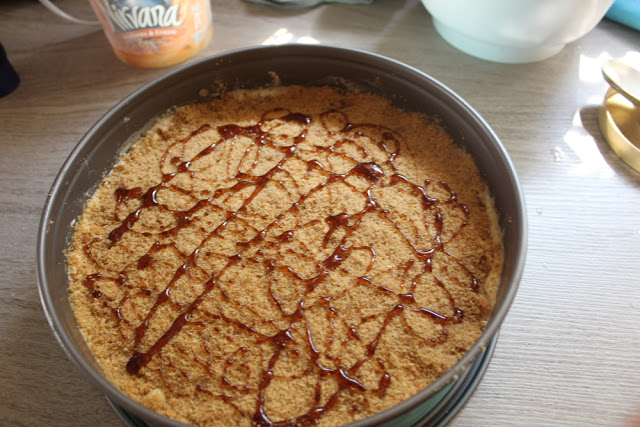 Now place the pralines and cream ice cream in the same manner and smooth the surface with a spatula.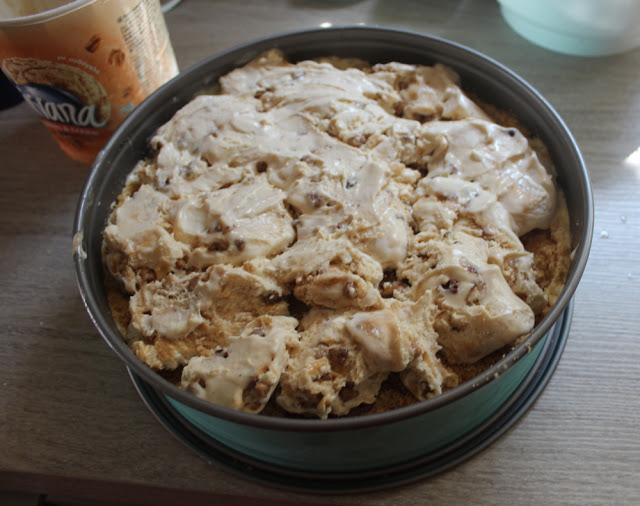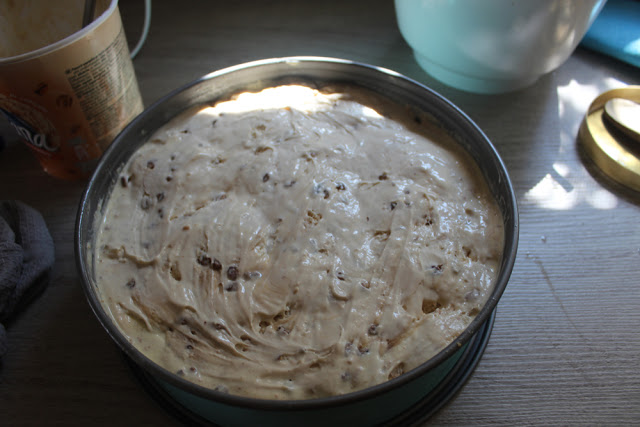 Freeze it overnight.
I wanted to write Happy Birthday but since my syrup was not the best one to do such fine work I opted for covering the surface of the cake with it. Since my freezer was full it got a little bit tilted so that's the syrup is darker on the one side. Told ya, no food gury here!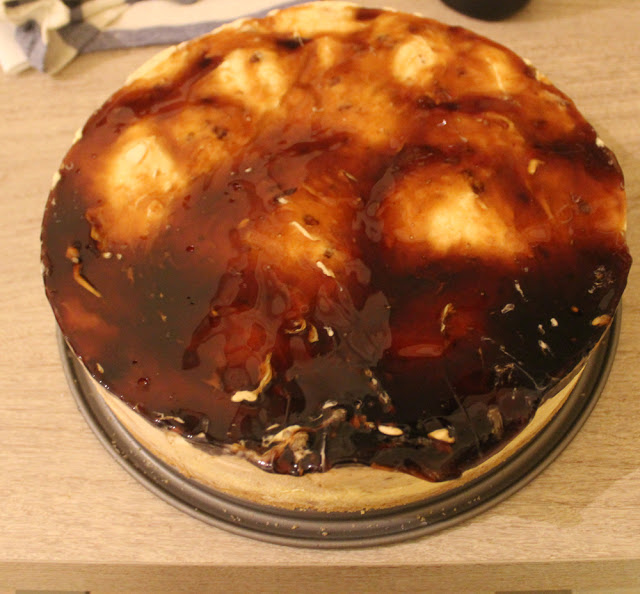 Regardless of the uneven syrup layrer, the cake was a hit! I think that's mostly because the ice cream I used is a very popular one lol!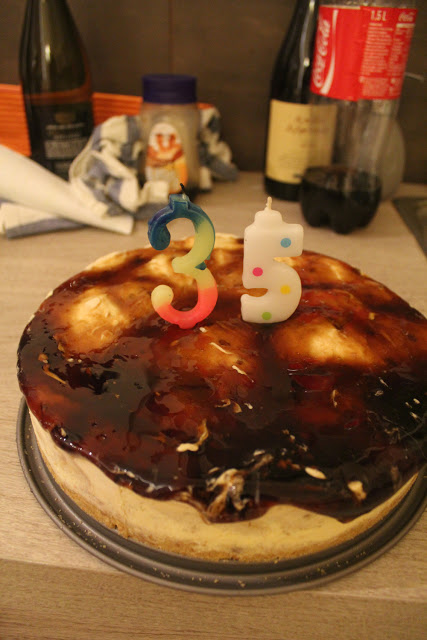 Nick loved it so that's a huge success right there! We had a lot of fun, especially when he decided to make funny faces while blowing the candles out!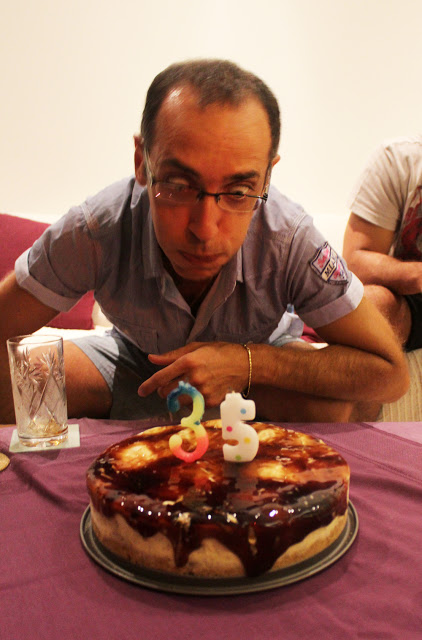 Happy Birthday love!

I managed to snatch one small piece and freeze it in order to photograph it the next day. It's a bit messy with all the syrup but as soon as the photo session finished, so did the piece!!!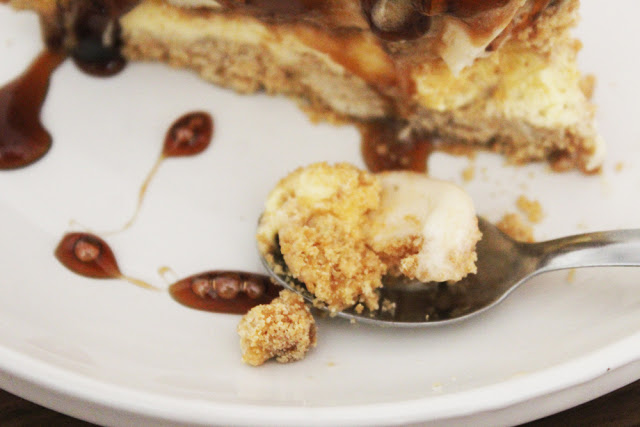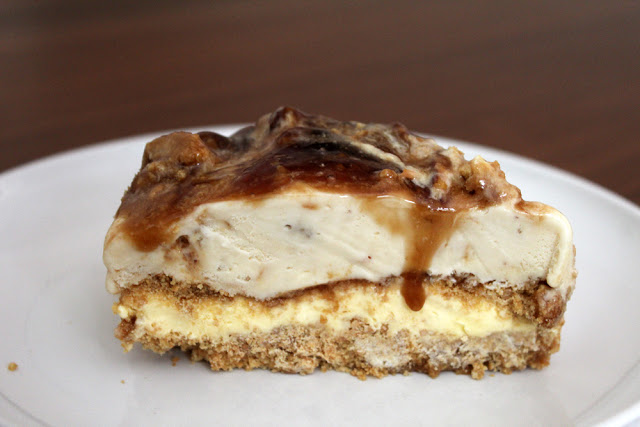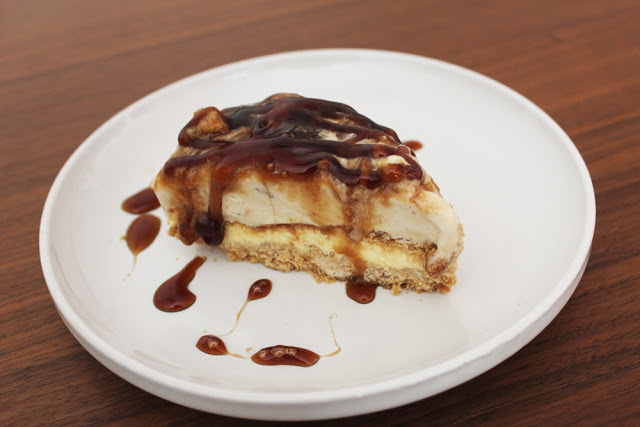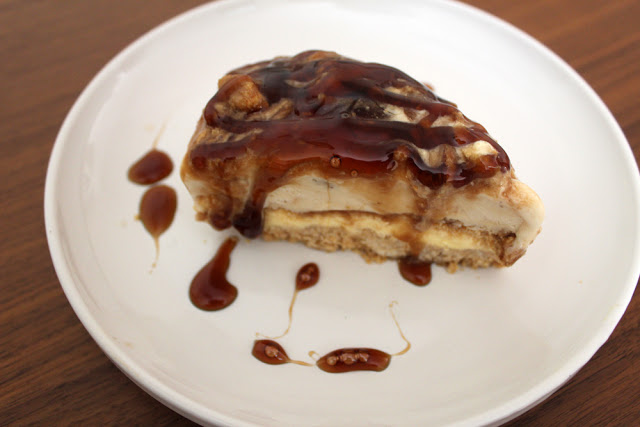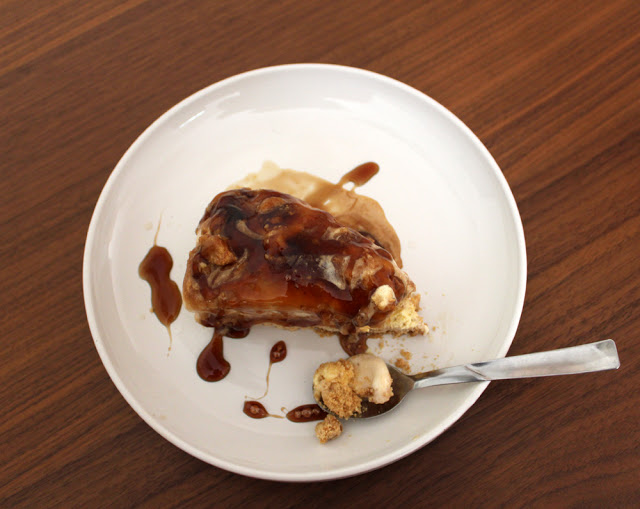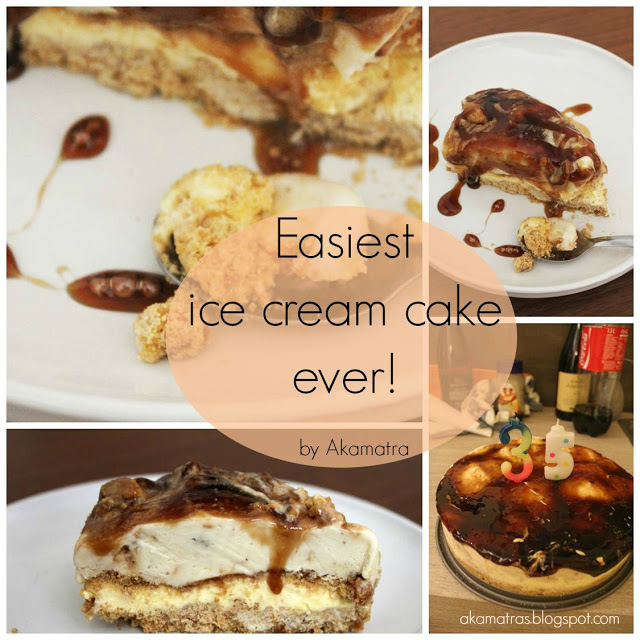 Let me know if you try this. My next one is going to be with oreo cookies, nom nom nom.
Lot's of love