Hello darlings,



I've been posting no spot these past couple of days, trying to make up for the lost time during the previous month when I was too busy with my craft room. You all know how important my craft room is to me but that's not the only important room for my family in our house! Me, Nick, mini the cat and our turtles Honu and Lulu spend most of our time in the family room.
Is a den different to a family room or living room? Some people would say they are the same thing, but you can look at a den differently. A den can be more relaxed than a living room, and it might not be somewhere you take your guests. Perhaps it's not at the front of the house but tucked away somewhere else. You could even turn a basement or an attic into a den. It's a place where your family can relax at the weekend or the end of the day. Whether you enjoy reading, watching movies, or listening to music, a den is a perfect place to do it. You can decorate in many ways, so try some of my ideas for a comfy and cozy den.
Relaxing Colors
Whenever you're decorating, it's always best to start by thinking about colors. You can come up with a scheme that suits the purpose of your den. It might be a relaxed family room where the kids will come to lounge about. Maybe it's where you want to sit with a glass of wine and a good book in the evening. It should be a space where you can unwind, however you choose to do it. If you want everything to be relaxing, there are lots of colors you might consider. Neutral shades and pastels can make everything bright and breezy, which is perfect for a room with lots of natural light. You might want to go for darker hues to create a cozier feeling if you want to snuggle up on the couch.


Choosing a Theme
source
Before you get into colors, you might want to choose a theme. Not everyone wants to pick one, but it's a good idea to have a solid plan. There are many places to find inspiration if you want to have a theme to execute. You could pick an interior design period or trend, a country or culture, or just a color. If you don't know where to start with your den, selecting a theme will give you somewhere to begin. It will prompt you to look at different options for everything from the floor to the lighting.
Light
In any room in your home, you want the ability to have lots of light. However, in a den, you don't necessarily want it to be bright all the time. You might wish to lower the lights for a movie or just to curl up in an armchair and read a book or crochet like I do. When you're thinking about the lighting for your den, consider the different levels of light you can bring into the room. Start with the natural light coming in through the window. Some rooms, such as basements, won't have much or even any sunshine. However, others will be lucky enough to get plenty. You should think about how you want to emphasize and minimize the natural light. You might choose to make the most of it by using light colors in the room. However, sometimes you might want to block it out so you can watch a movie.
When you select your lights, you should think about having various types of lighting available. Consider using lights at different heights and with varying colors and strengths. You could have ceiling fixtures, floor lamps, wall sconces, and more. Then you can adjust the lighting to whatever level you want it to be. Everything could be lit up so there's plenty of light, or you could dim it all down to make the room relaxing. You can find some interesting lighting ideas at www.lampsplus.com.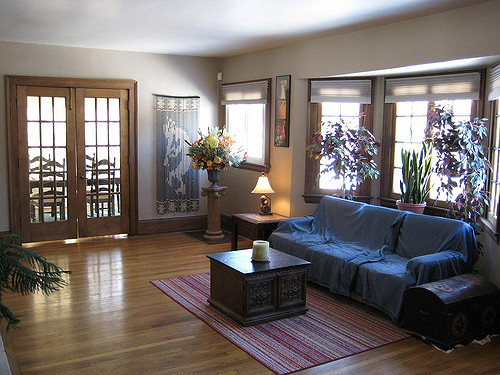 Comfortable Seating
Every den needs somewhere comfortable to sit. In fact, you could argue that the den should be more comfortable than any other room. You should decide how formal you want to be when you select furniture. Although the room should be relaxing, you still might want to make it smart and presentable. In that case, you'll probably want sofas and armchairs for everyone to relax on. However, maybe you want a more laid-back space where the whole family can lounge around. The perfect option for a family den has to beanbags. If you get giant ones from www.ComfySacks.com, everyone from the kids to the dog can enjoy them. They have enough structure that you can use them as a chair, and it won't damage your back.
If beanbags aren't your thing, you should try to include a couple of seating options. Sometimes you might want to sprawl out on a sofa and other times you might prefer to curl up in an armchair. Make sure there's somewhere for everyone to sit. That might mean having seating for your family or your friends.
Reading Material
A den is an excellent place to retreat to when you want to read. You might like books or magazines, or prefer to get out a tablet or e-reader. If you love picking up a book, you can keep your favorites in your den. Line the walls with bookcases so you can make use of the space you have. If you want to ensure you get the most out of the room, choose floor to ceiling bookcases. Have a look at the ones on www.dornob.com. You can use a ladder whenever you want to reach the books at the top.
Perhaps magazines are more your thing, but you still need somewhere to put them. You might choose to have a storage bench or coffee table. Magazines can be difficult to store, but you can get racks designed for holding them. If you prefer to read electronically, the most important thing for your den is somewhere to plug in your devices. You need convenient side tables to leave your tablet to charge or even a desk where you can sit with your laptop.
You know I have the solution for your yarn if you crochet and need to keep you work in progress in the den! Try my yarn box and you will always have a nice place to store your wip!
Sound System
Some people prefer to retreat to their den to listen to music. A decent sound system also serves a second purpose, improving the quality of the TV and movies you watch. As well as a system that sounds good, you probably want it to look good too. There are lots of ways you can incorporate it into the room. Your speakers could even be inside the furniture. You can find sofas and chairs that come with them built-in. You can balance style and sound by finding the right system for you. You're likely to be paying more for both, however.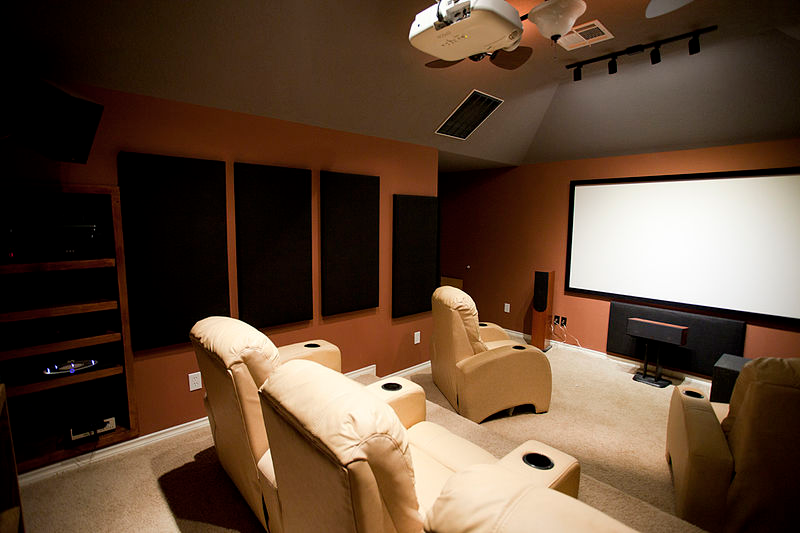 TV and Movies
You might also be considering surround sound if you're a big movie or TV fan. A den can be the perfect place to sit back and watch your favorites or discover something new. In fact, you could turn it into a home cinema with the right design choices. If you have a blank wall, you could use it to as the canvas for a projector. If you want to set up a media center, you need a source for your TV or movies, a screen, and sound. You might use your computer, a cable box, or another type of transmitter or storage device. Smart TVs are becoming more popular for those who prefer to use the internet. If you want to use the room for other purposes, you could also find a way to hide your home cinema stuff away. A stylish media center or cabinet system could be the perfect solution.
Snacks on Tap
If you have a more formal living room, you might ban food and snacks in there. But a more relaxed den is the perfect place to munch on popcorn and other nibbles. Who wants to go all the way to the kitchen to get something to eat or drink? If you plan your den carefully, you could have everything you need right there. Depending on how much space you have, you could put in lots of things to supply you with snacks. A mini fridge can keep drinks and chocolate cold, or even a larger one if there's space. Stow away some snacks in a spare cabinet or even in a storage table.
You could also create an excellent home bar in your den. Whenever you want a drink, you'll be able to mix one for yourself. It doesn't have to be a huge bar that takes up a lot of room. It could simply be a trolley with a few of your favorite tipples on it. Use something that you can wheel into a corner when you're not using it, so it doesn't get in the way. However, you could do something larger, with a proper bar and stools you can sit on too. You can use it to relax in the evenings and even bring friends in to share a drink together. If it's possible, you could install a sink so that you have space to wash up as well. A fridge behind the bar gives you somewhere to keep some drinks cold and perhaps have somewhere to get ice too.
Your family den could be anything you want it to be. No matter how you like to relax, a den is the ideal place to sit back and unwind.

Do you have one in your house? Any tips for the rest of us?



Lot's of love