OK, I am really excited about this pattern you guys! I was looking for years for a way to dye our Easter eggs in a natural and healthy way and I think I found it! And you don't even need to get your hands dirty! You just need some colorful yarn and your crochet hook and you can whip out these Monsters Egg Cozies in no time at all! Here is the super easy monsters egg cozy crochet pattern!
ΒΡΕΙΤΕ ΤΟ ΠΑΤΡΟΝ ΣΤΑ ΕΛΛΗΝΙΚΑ ΕΔΩ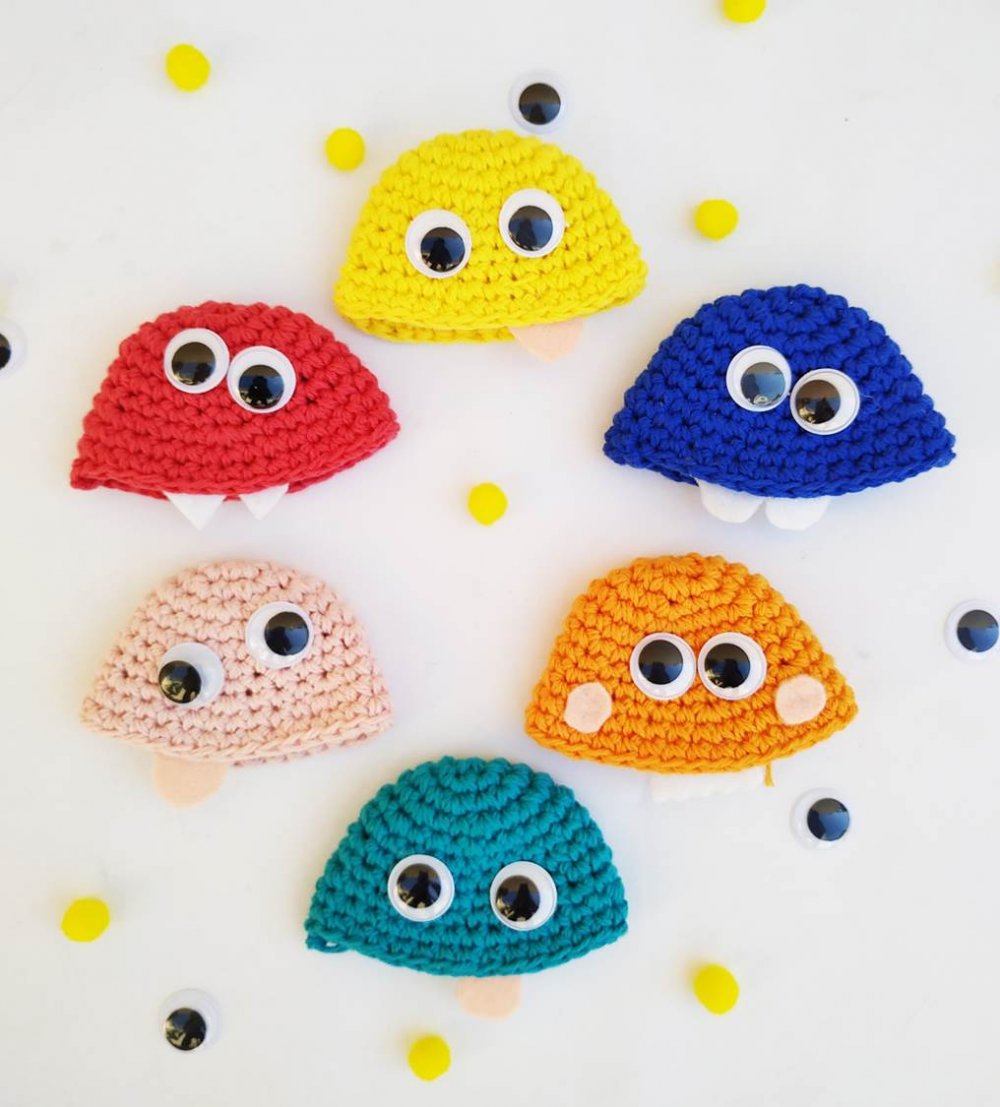 Monsters egg cozy crochet pattern
I can't tell you how many hours I have spend searching for a way to dye or decorate our Easter eggs without all the harmful crap you can find in a bag of "non toxic" egg dye. My previous attempts to make cute Easter eggs were made with empty egg shells due to the glue used. This year I finally got a clue to use my love for amigurumi and decided to "dress up" my eggs with cute monsters cozies, or hats.
I came up with this idea as soon as I saw the colors of the cotton yarn I got from FlyingTiger. I mean look at them! They are the perfect colors for Easter and spring!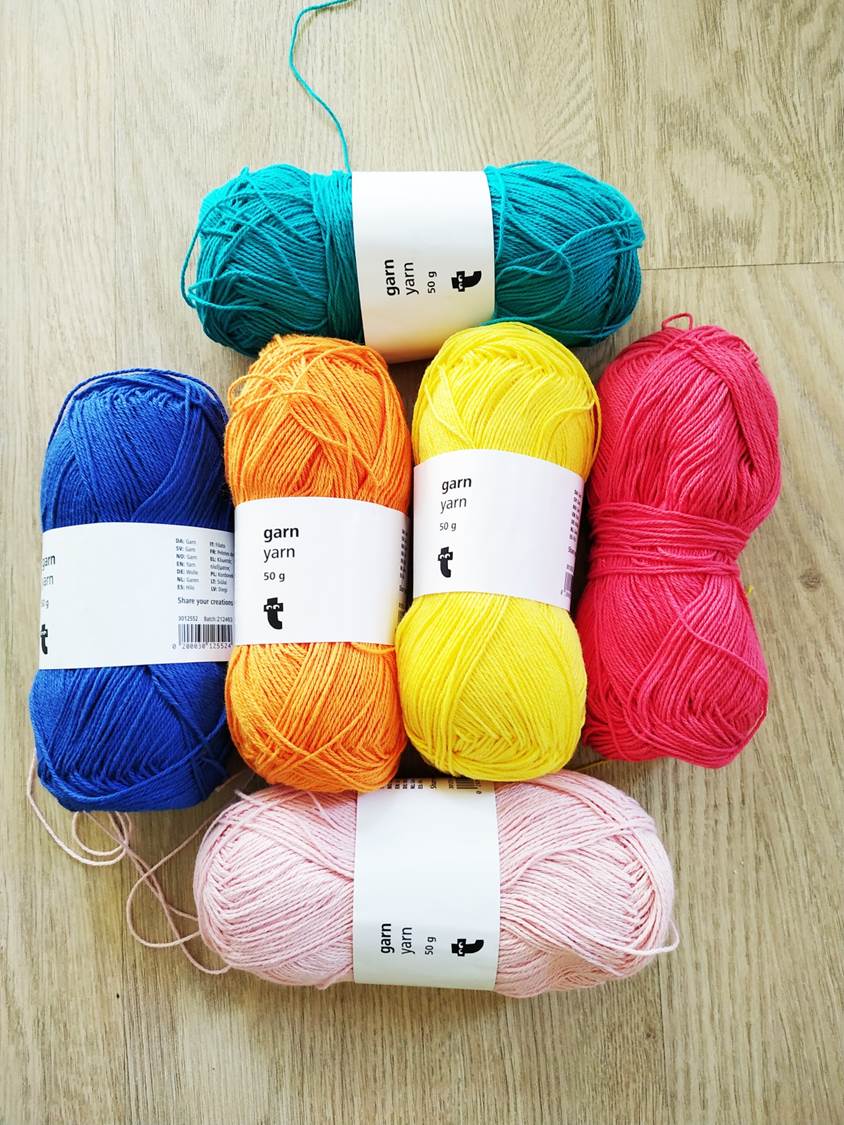 Since they are quite thin I used a double strain to crochet the monster egg cozies. This is really the perfect amigurumi crochet pattern for beginners! You just need to know how to increase and do the magic circle. No need to stuff, count for the eye placement or embroider anything! I bet you can totally impress your guests and family this Easter with them!
Monsters egg cozy crochet pattern
Supplies:
A small amount of colorful cotton yarn for each cozy. Mine is c/o Flying Tiger in blue, orange, pale pink, yellow, fucshia and teal.
A 3.00mm (or C) hook.
Glue on craft eyes
Small pieces of white and pink felt
Glue and glue gun
Pair of scissors
Yarn needle
Amigurumi Pattern:
Abbreviations
This pattern is written in US crochet terms
MC: magic circle
Sc: single crochet
Inc: increase, make 2 sc in the same st
Sts: stitches
Egg Cozy
 MC,
1. 6sc in MC, (6)
2. inc in each sc around (12)
3. sc, inc, repeat around (18)
4. sc in next two sts, inc, repeat around (24)
5. - 6.  sc around (24)
7. sc in next three sts, inc, repeat around (30)
8. - 10.  sc around (30)
Finish off and secure yarn.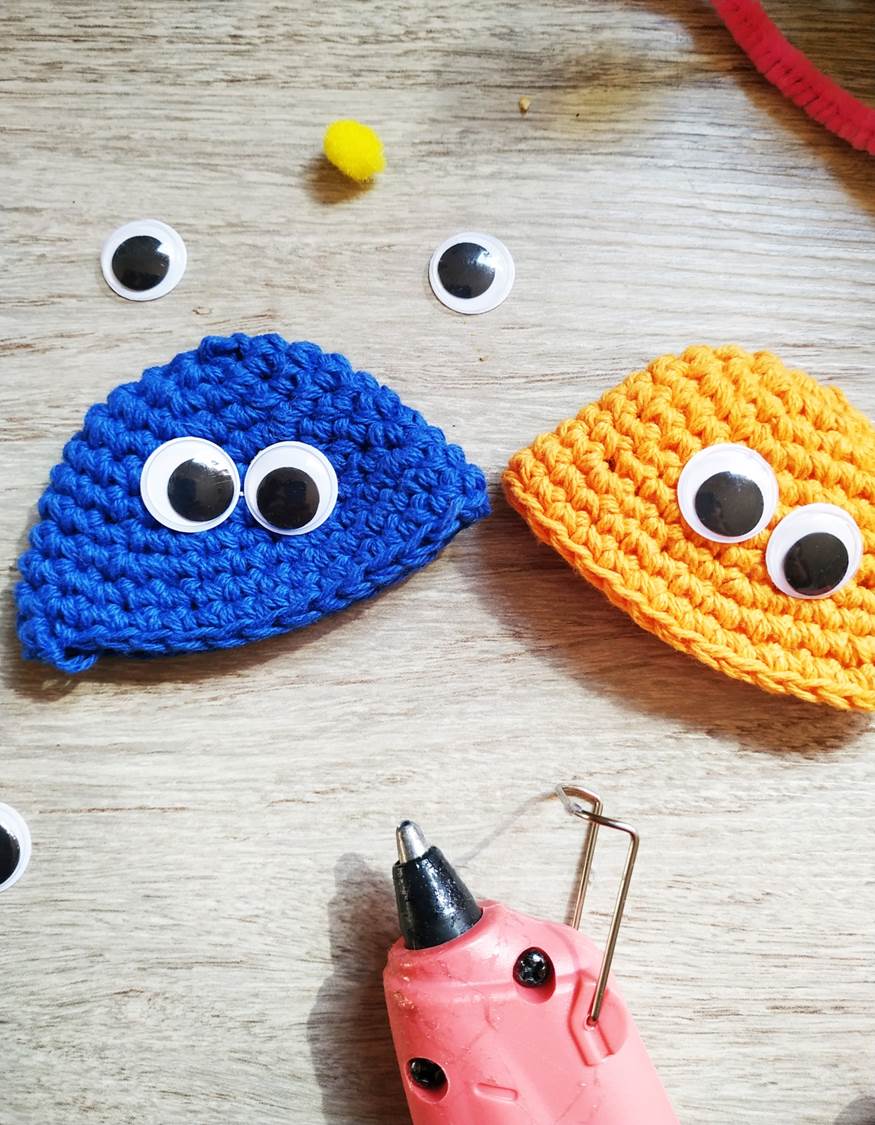 Procedure:
Cut some tongues with pink felt and some teeth with the white one. Glue them on the inside of the cozy to form teeth and tongues for your monsters.
Glue the eyes wherever you want trying to achieve goofy and fun expressions for your monsters. You can place the cozy on an egg to help you decide on the best placement.
Your monsters egg cozies are ready to be placed on your hard-boiled Easter eggs!
Monsters egg cozy crochet pattern
 I made a few with different teeth and tongues!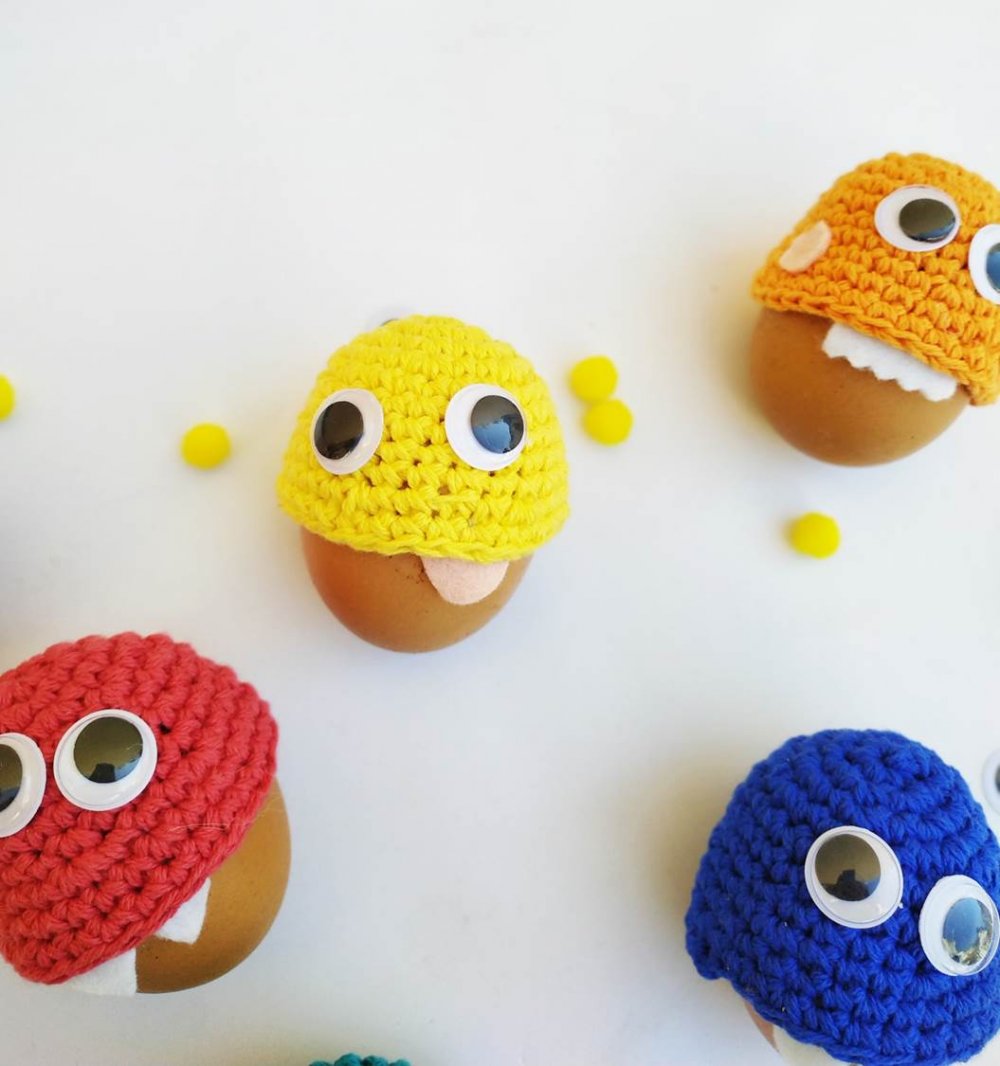 You can play around and make as many different options as you'd like!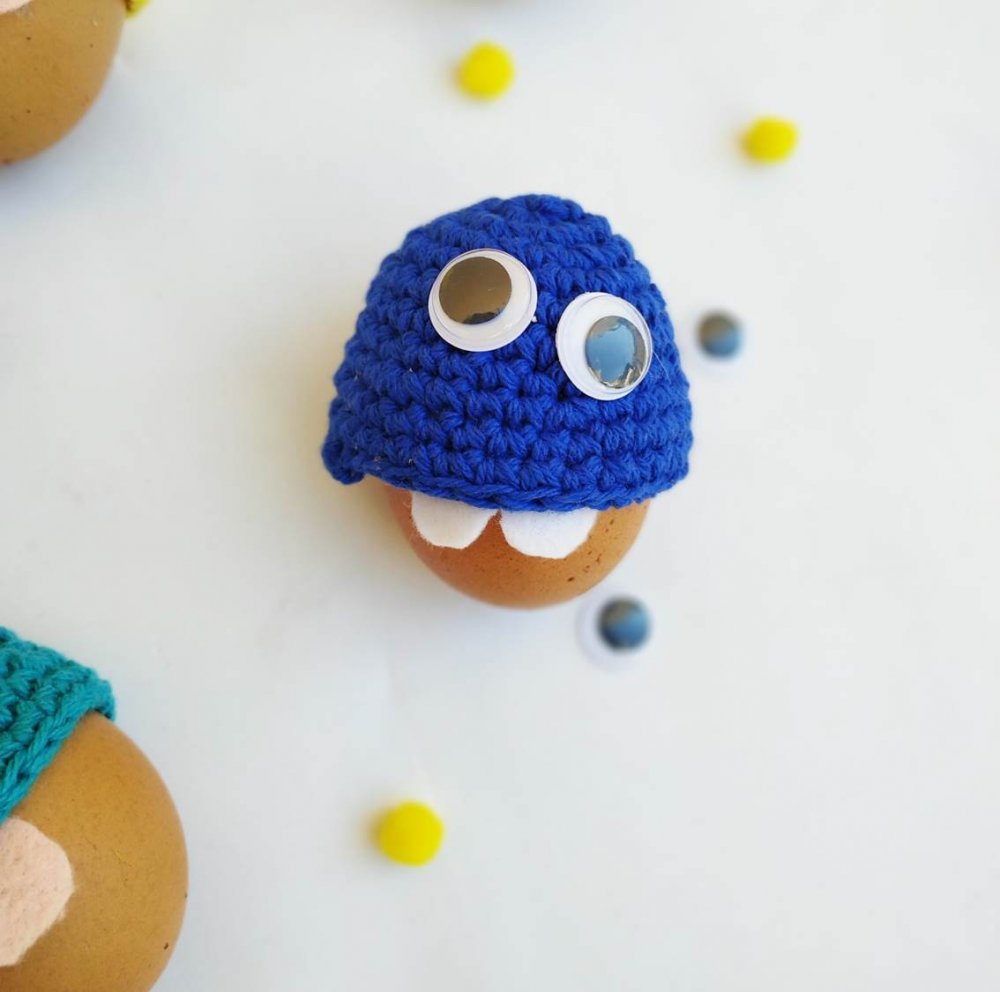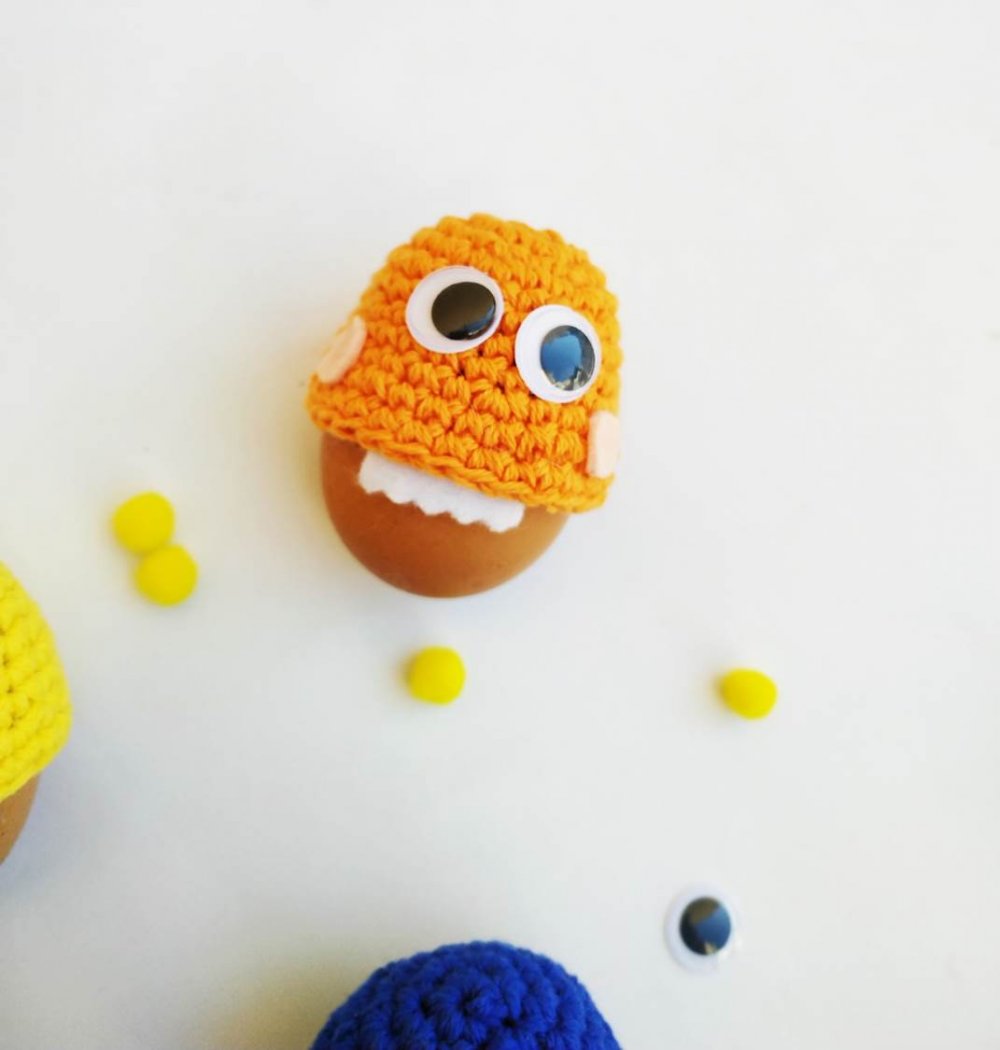 I can't wait to see what you will make with my Monsters egg cozy crochet pattern. Please please please tag me (@akamatra) to your social media posts so I can see and share them on my instagram stories!
What do you say? Are you going to make some cute monsters for your eggs this Easter?