Hello there my darlings!
I wanted to thank you so much for the warm comments you wrote on my Christmas card tutorial and for voting my design in the Amigurumi contest. Your support and love means the world to me! For those of you who asked to learn more about the Greek traditions this post holds another piece of that!
I bet most of you are familiar with gnomes! I am talking about those little cute underground living humanoids that have made it through the surface and have become a Christmas trademark. Yeah, that's the ones!
Well, guess what? In Greece we have our very own gnomes. They are called Kallikanzari (I bet you can't pronounce that!) and they are just as cute as their gnome cousins but much more misbehaving creatures.
What they do all year long is live underground with the sole purpose to saw down the world tree so that it will collapse and bring down the Earth with it. But when they are close to the end, Christmas dawns and they come to the surface! There they cause trouble, hiding things and pulling pranks to the poor humans.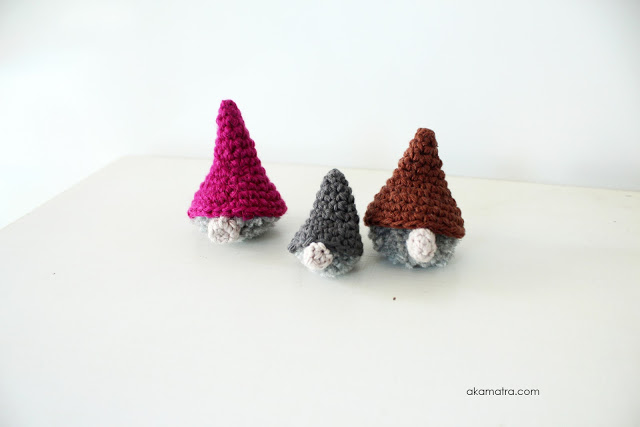 I know many a housewives that have been driven mad because of the mischievous kallikantzari. They are saved from madness on the 6th of January when they return underground to find that the tree has healed in their absence and they need to start sawing it again.
 Now, the folklore describes these kallikantzari as anything but cute but I am not known to follow the norms so my kallikantzari are more gnome like than goat-footed humanoids. In fact, just call them gnomes and forget I said anything about goats. Or humanoids.
 Here is how to make them!
 You will need:
 A small amount of grey yarn to make pom poms
A small pom pom maker from the Flying TIger
A 3.00mm hook.
Cotton yarn for the hats in any color you like. I used fine cotton yarn in grey, magenta and brown from the Flying Tiger.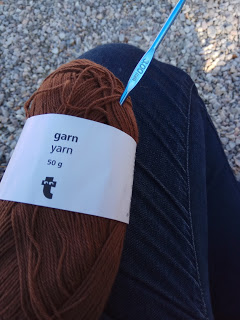 Cotton yarn in beige for the noses.
Scissors ( I got mine from here)
Yarn needle
Hot glue and hot glue gun
Amigurumi Pattern 
Abbreviations
This pattern is written in US crochet terms
MC: magic circle
Inc: increase, make 2 sc in the same st
Dec: decrease, either with invisible decrease or sc2tog
Ch: chain
Hdc: half double crochet
Dc: double crochet
Trc: treble crochet
Sl st: slip stitch
Blo: back loop only
Tog: together



Large hat
 MC,
1. 4sc in MC,
2. sc around (4)
3. sc, inc, two times (6)
4. sc around (6)
5. sc in next two, inc, repeat two times (8)
6. sc around (8)
7. sc, inc, repeat four times (12)
8. sc, inc, repeat six times (18)
9. sc around (18)
10. repeat 9
Finish off and secure yarn.
Small hat
MC,
1. 4sc in MC,
2. sc around (4)
3. sc, inc, two times (6)
4. sc around (6)
5. sc in next two, inc, repeat two times (8)
6. sc in next two, inc, repeat two times, sc in last st (10)
Finish off and secure yarn.
Nose
MC,
1. 4sc in MC,
2. sc, inc, two times (6)
3. sc, dec, two times (4)
Finish off and secure yarn.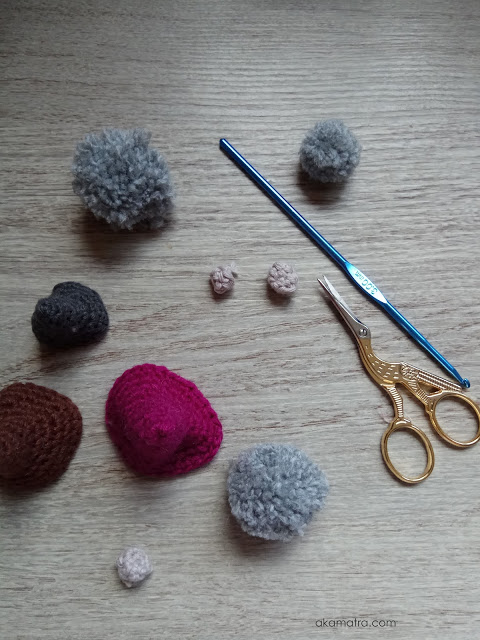 Make three small pompoms with your pompom maker. Use my full tutorial found here to keep them from coming apart.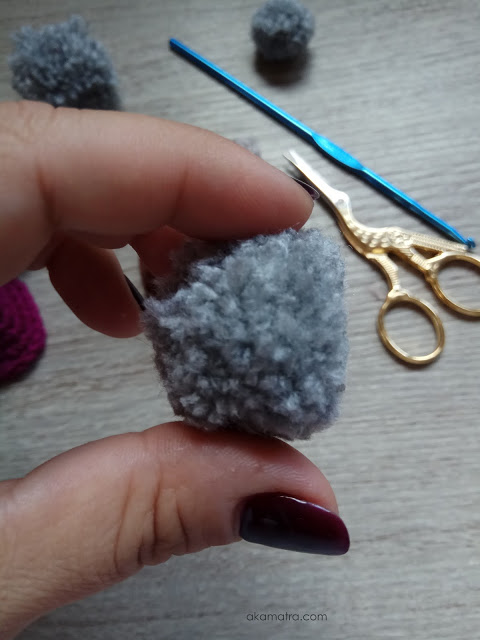 With you scissors, give your pompoms a trim. The goal is to make them round on top and a bit flat on the bottom so that they will stand on their own.
 For your baby gnome, cut more yarn of the pompom and check from time to time to make sure it fits the hat you made.
 Glue the hat on the pompom. Add your glue on the inside of the hat rather than on the pompom for a better result (and less burnt fingers).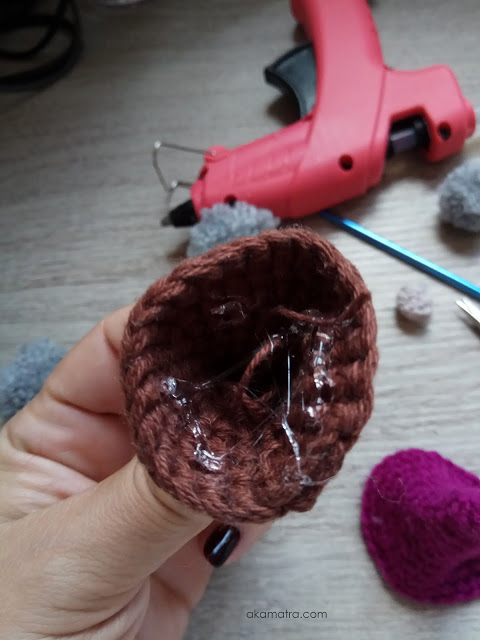 Now glue your nose just when the brim of the hat is.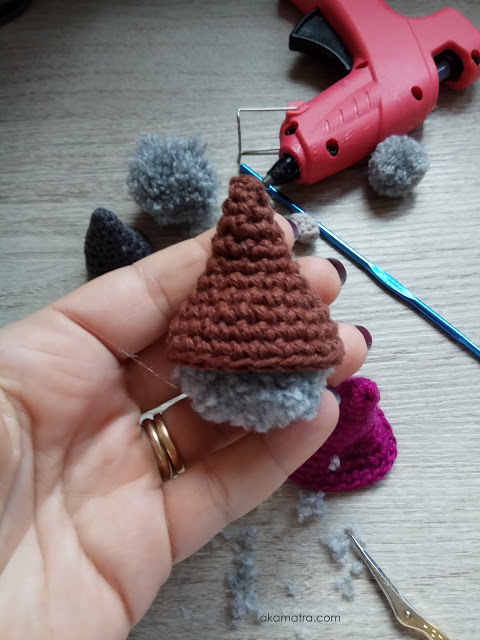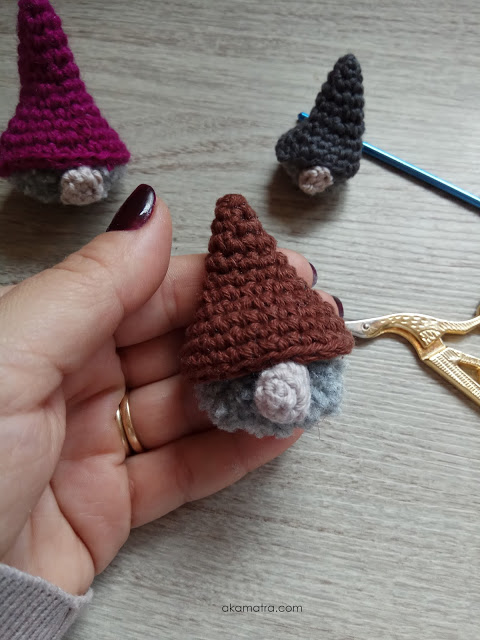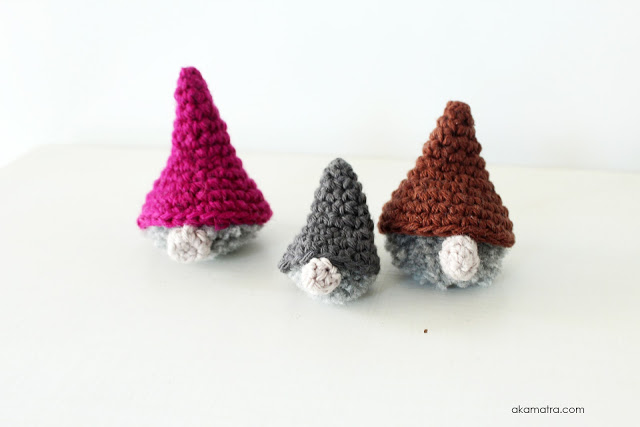 You are set!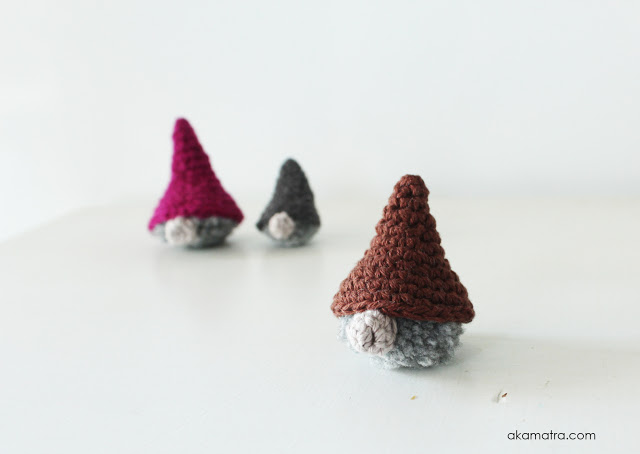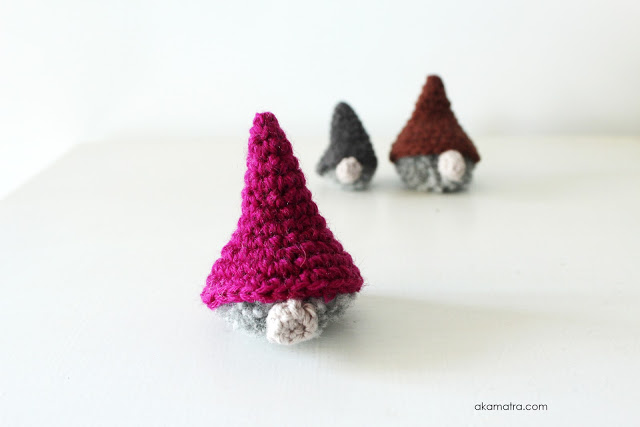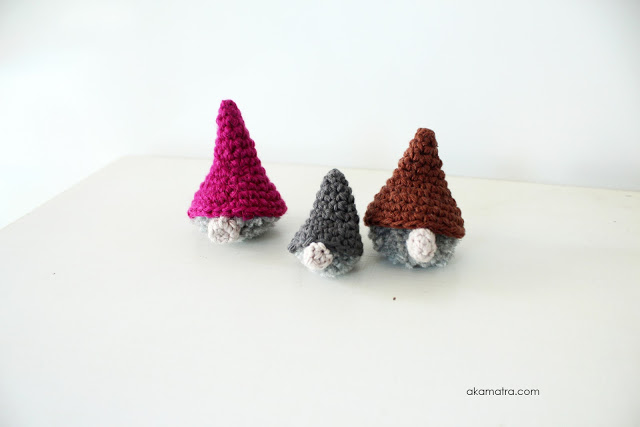 Awww look at how cute this kallikanzari family is!!!!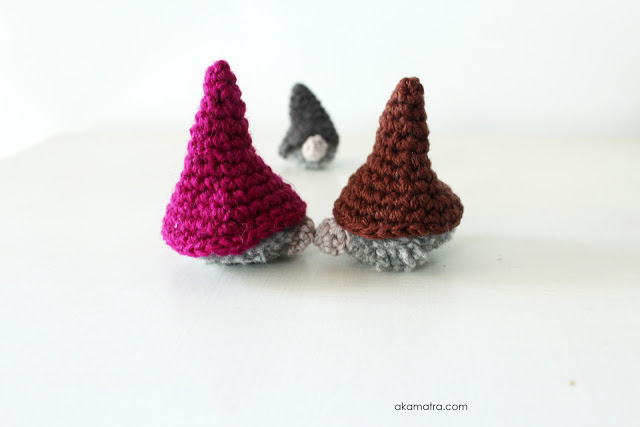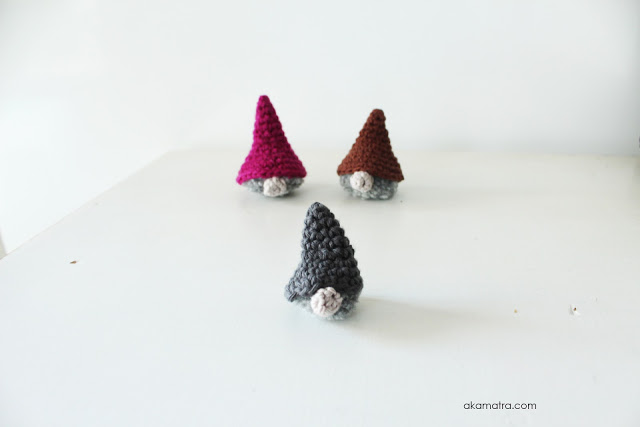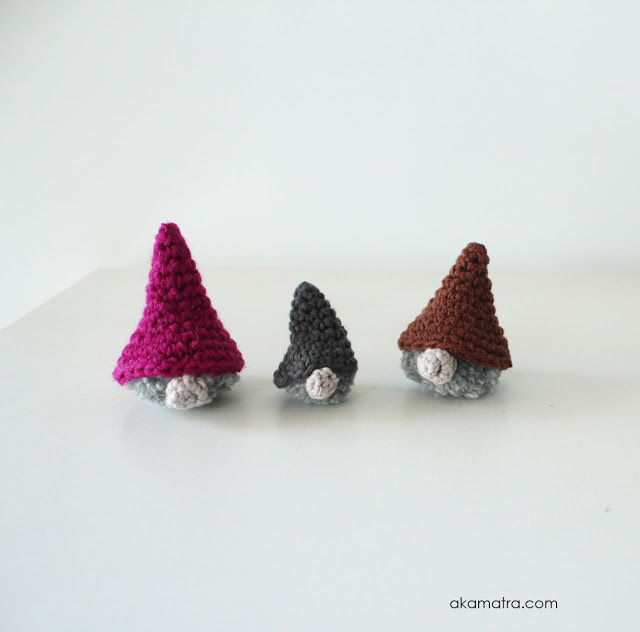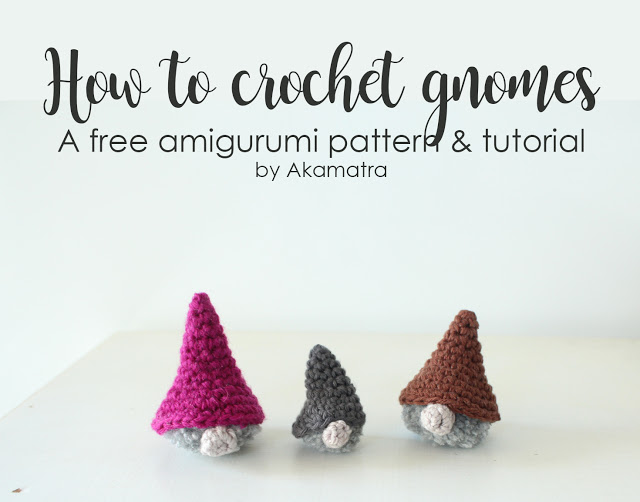 Have you ever experienced mischief during Christmas time? Any fun stories to share?