Hello darlings!
Many homeowners and rental owners believe that to get a beautiful, functional bathroom requires massive and exorbitant renovations. Consequently, they put up with a mundane looking bathroom and cite the lack of resources, time, or skills as their excuse for not boosting the room's design. In truth, however, the cost of a bathroom remodeling exercise varies depending on the extent of the modifications, service fees of the renovation technicians, the accessories you use as well as the size of the room. 
Homeowners should look to renovate a bathroom for themselves simply or if they plan to sell the home. Rental owners should always invest in a nice bathroom, as it'll increase the rental's quality. Luckily, irrespective of whether you have a large or small bathroom, there are inexpensive, practical and visually inspiring bathroom renovation ideas worth exploring. These include;


Use of Mirrors
A useful trick of boosting a washroom's image is by adding mirrors. Mirrors not only make the room appear brighter, but they also provide a surface against which light can bounce off to create a magical bathroom look. Besides, the mirrors create an illusion of endlessness, making the room feel much bigger and less cramped. Some of the ways you could use mirrors to actuate such a look are by placing large mirrors on the bathroom walls just below the source of light, or near the sink and hand basin. If you can, also modify your shower areas by installing glass partitions.
Consider the lighting
Lights have the distinct ability to transform the ambiance of a room. It can make the room look bright, royal and warm, or dim, romantic and sensual. The good thing about light fixtures is that they exist in a myriad of varieties which range from the incandescent room lights to the more functional and versatile LCD and CFL bulbs. Still, you have the option of using energy friendly, natural lighting options like installing skylights, wider windows, and removing curtains on the bathroom windows. In place of the curtains, you could settle for a beautiful window valance.
Install cabinets
If you want a bath that is both functional and pleasing to the eye, adding cabinets is a great solution to killing the two birds at once. The cabinets will not only give you more storage areas for your toiletries and medicine, but they also serve as visually pleasing indoor accessories. However, to accomplish an amazing look, ensure that your cabinets have a design that leans towards a clean, crisp, streamlined furniture piece. Furthermore, scale the size and number of cupboards to the proportion of the room to avoid cramping the area. The best location to install the cabinet is to secure it against the wall slightly above the head level.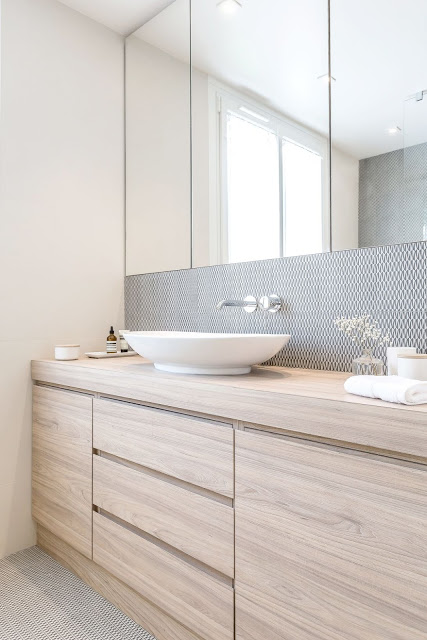 Upgrade the surfaces
The surfaces in your bathroom such as countertops, ceiling, walls, backsplash, and floors, should all work towards creating that spa-like look that you want. So, if they are dull and ordinary looking, consider giving them an upgrade. The market is awash with attractive and breathtaking materials that you can use to this end. These include limestone, quartz, granite, glass, concrete, mosaic, and stone tiles, all of which you utilize to actuate the modern style look. A word of caution though, when installing these materials, consider factors like their design, shape, functionality, pattern as well as ease of installation and maintenance.
Paint the Bathroom
At times, all it takes to have a fascinating bathroom is a new coat of paint. A change in color will make the room look new, spacious and aesthetically delightful. Moreover, colors are effective at changing the state and theme of a room, which means that you can use them to transform the mood and feel of your bathroom. Excellent shades for a bathroom renovation are light green, gray, white, metallic, and beige. Just make sure you have the right painting skills or else you might end up with an unsightly looking room.
Accessorize
Another impressive way to renovate your bathroom is by adding accessories in it. For instance, you could introduce bright, clean stainless steel towel hangers, and frame the vanity mirrors using silver, golden or stone tones. You can also install luxurious showers such as multiple rain head steam showers, body sprays, walk in shower cubicles, massage jets and much more. Additionally, you could replace the door and drawer pulls with attractive and durable models. When accessorizing the room, however, keep the décor to the bare minimum and free of clutter.
Invest in a few Plush Towels
Towels are indispensable to any bathroom. Hence, instead of having run-of-the-mill towels, why not go for brightly colored velvet varieties similar to the ones found in luxury hotel suites. While at it, add a pair of cloud-like towels and silky bath linens to complement the look. You will take your showering experience to an entirely new level.
Install a bathtub
If you have a spacious area, then installing a cozy looking tub would suffice as an excellent bathroom renovation idea. But ensure you have the right skills and resources to get the job done. Otherwise, you might set yourself up for many bathroom emergencies. 
Hire a professional to do it 
If you do not have the time, skill, and resources or will to carry out the bathroom renovation exercise, it will be in your best interest to hire an experienced set of hands like Dulles Kitchen & Bath Remodeling. It will save you time and money since the expert already knows the best way to approach the kind of improvements you need.
Lot's of love